Pa. community ambulance needs 5 EMTs to stay open
Trevorton Community Ambulance's dwindling number of volunteers means the ambulance is frequently unable to staff at least two on-call members
---
By Sarah DeSantis
The News-Item
ZERBE TOWNSHIP, Pa. — Despite financial stability, a new building and incentives for volunteers, the last all-volunteer ambulance company in Northumberland County is at risk of closing its doors because of a manpower shortage.
Gene Geise, president of the Trevorton Community Ambulance, said the company determined at an Aug. 13 public meeting it will be forced to end its service March 31 if it cannot recruit at least five new EMTs.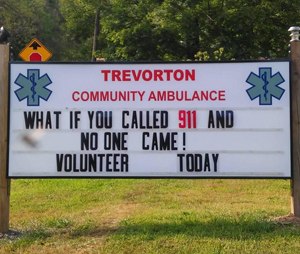 "It's not a decision that we made lightly," he said. "We've got everything we need except the people."
The ambulance, which celebrated its 75th year of operation earlier in the summer, is down to just six active EMTs and 25 total volunteers. The dwindling number of volunteers means the ambulance is frequently unable to staff at least two on-call members, forcing it out of service.
"There's a good possibility if we don't get additional people we could shut down," he said.
More volunteers of all types are needed, but Trevorton Community Ambulance especially needs EMTs and first responders, non-medics who typically drive the ambulance. Training for both types of volunteers is paid for by the ambulance.
"Without the EMTs, we can't keep going," said Al Hoffman, vice president.
"There are jobs for everyone who wants to volunteer, but we have to focus on the EMTs and first responders," said Geise. "Every hour helps."
Geise said volunteers can be on call for as little as two hours at a time. They don't have to stay in the ambulance or even be in the ambulance building during the on-call period, but they need to reliably respond and be in the ambulance within a nine-minute window of receiving a call.
"It has to be, 'I will show up,'" said Geise.
Though many volunteers who live in Trevorton stay at home during the on-call hours, they are also welcome to lounge at the ambulance building, which was built just last year. The company is working on furnishing a lounge upstairs, which Geise hopes will entice volunteers.
"When we built the new building, we thought it would help increase volunteerism," he said. "We've lost people since then."
The ambulance is also attempting to reach out to the community for new members through a variety of events. During the summer, the ambulance hosted an open house with a band in the hopes visitors would become interested in joining. CPR and babysitting classes scheduled for the fall are open to anyone in the community.
Sharon Hoffman, an EMT, said she joined the ambulance years ago when she was considering attending nursing school and wanted to check out the medical field.
"It's a way to get your hand in," she said.
As a volunteer company, the ambulance provides only basic life support - no IVs and no drugs. The majority of the calls involve treating minor injuries, like broken bones, or assisting elderly residents, Geise said.
High school students 16 years or older are welcome to volunteer. The ambulance has an incentive system that rewards the most active members, and students can earn points just by doing their homework in the ambulance building if they agree to be on-call at the time.
Geise, who is also a Zerbe Township supervisor, said the shortage of volunteers has led to the ambulance probing the possibility of paying members. But staffing around the clock at minimum wage would cost $132,000, which is unaffordable for the ambulance and the township.
Additionally, "people don't do it for minimum wage," said Geise.
"It pays off in the reward of helping people," said Al Hoffman.
Beyond responding to approximately 300 emergency calls each year, the ambulance assists the community in other ways. Typically, volunteers are on hand at youth sporting events and festivals. The ambulance also serves a free Christmas dinner every year.
"It's meant to be part of the community," said Geise.
The next EMT training session is scheduled for 6 to 10 p.m. Sept. 22. The ambulance hopes to send at least five new volunteers to the session.
©2015 The News-Item