Ousted Kansas EMS director to receive 4.5 months' pay
Dr. John Gallagher, former Sedgwick County EMS director, resigned last week and agreed not to sue officials or individuals in exchange for $85,000
---
Chance Swaim
The Wichita Eagle
WICHITA, Kan. — Sedgwick County EMS Director Dr. John Gallagher resigned on Friday, and the County Commission agreed to pay him $85,177.85.
In exchange, Gallagher has agreed not to sue Sedgwick County, individual commissioners or any other county officials or employees. Gallagher also agreed not to apply for any position with the county in the future.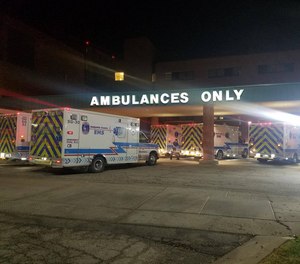 County Manager Tom Stolz placed Gallagher on paid administrative leave Monday and removed him from his position on Wednesday following a Wichita Eagle investigative series into response times and an EMS staff revolt.
The County Commission called a special meeting Friday to approve the severance package, which was signed by Gallagher on Thursday, a copy of the agreement shows.
Gallagher was also the county's medical director. The $85,177.85 payment is the equivalent of 4 1/2 months salary. It will be paid out in a lump sum within seven days.
As part of the settlement, Sedgwick County also agreed to issue a joint announcement of Gallagher's resignation with the language agreed upon by both parties.
"Sedgwick County and Dr. John Gallagher have agreed that it is in the best interest of both parties to part ways," said Commission Chairman Pete Meitzner, reading from a prepared statement. "Therefore, Dr. John Gallagher has resigned as EMS Director effective July 23, 2021.
"Sedgwick County would like to extend Dr. John Gallagher well wishes for his future endeavors and appreciation for his service."
Since Gallagher's promotion two years ago, 92 employees have left the roughly 200-person EMS department, causing ambulance shutdowns and dangerously slow response times. This year, Sedgwick County EMS reached fewer than one in three patients within 9 minutes — a national standard for EMS response.
Gallagher started as Sedgwick County's medical director in 2015 after coming from the same position at a private ambulance service in Winona, Minnesota — a town of around 27,000 people.
Stolz promoted him in 2019 — against the wishes of a petition signed by more than 100 EMS employees — as part of a move to consolidate the Office of the Medical Director and Emergency Medical Services, making Sedgwick County EMS one of five physician-led departments in the nation.
Gallagher signed a 5-year, $1.1 million contract in December 2019.
Calls for Gallagher's removal came in April following Eagle reporting on his handling of a 2019 case involving a 31-year-old patient who had apparently shot himself in the head. The patient was five minutes away from the nearest hospital, but Gallagher refused to transport him for five hours, even though the man continued breathing and had a pulse.
Commissioner Jim Howell organized two closed-door town hall meetings for EMS employees to air their frustrations to Stolz and Assistant County Manager Rusty Leeds on April 26 and April 28.
More than 120 past and present EMS employees attended, and 39 spoke directly to county management, describing a miserable, high-stress workplace with belittling bosses, discrimination and vague protocols that are driving away experienced paramedics. They also warned that slow response times and ambulance shutdowns under Gallagher put the entire county at risk of preventable death.
After the April meetings, Sedgwick County hired private law firm Hite, Fanning & Honeyman to investigate Gallagher's leadership and EMS protocols.
In a June 1 interview with The Eagle, Gallagher acknowledged his leadership style doesn't "jibe with everyone" but said he had no plans to resign. "I intend to be here for years," he said at the time. He also said he welcomed the law firm's audit.
County officials said they received a verbal summary of a portion of the investigation's findings on Wednesday but not a written copy.
Stolz said the audit likely won't be released to the public. The total cost of the audit has not yet been calculated, Stolz said.
"The cost of the audit will definitely be released because we're using taxpayer money for that," Stolz said.
"Regarding the components of the audit itself, there's attorney-client privilege attached to that, and I don't think we'll be able to release that actual report."
Stolz said he wasn't sure whether the attorney-client privilege could be waived by the county, allowing the audit to be publicly released. He referred all further questions about the audit to Sedgwick County Counselor Mike Pepoon.
"While I'm not required to answer your questions, I believe the client is Sedgwick County," Pepoon wrote in an email. "I'm not going to speculate at this time whether commissioners have the right to waive the privilege or in fact should do so in this instance. I can tell you in the 35 years I have been with the County I cannot think of a single instance of commissioners waiving such a privilege."
Commissioners look forward; EMS woes remain
Sedgwick County commissioners are eager to put the EMS controversy behind them, but the EMS crisis continues.
"We now want to move forward in a positive direction for our EMS department and put this behind us," Meitzner said.
Stolz said a staffing shortage persists and it could take years to build EMS back to its former staffing levels.
On Wednesday, Stolz announced sweeping changes to the department, rolling back the 2019 merger. The medical director and EMS operations will be separated, with a new director for each hired through a competitive search. The county would also create an EMS Citizens Advisory Board to improve transparency and add oversight of the department.
In June, no ambulances were available for the entire county for around 139 minutes, and the problems have continued in July. Throughout this week, multiple ambulances have had to be taken out of service due to the ongoing staffing shortage, with some calls being placed on hold until an ambulance becomes available.
"EMS is struggling as much as it ever has been," Howell said. "The people that are providing care are excellent, . . . but the problems about having enough trucks — active ambulances — on the street, which results in status advisories, which actually ties into slower response times, which ties into exhausted staff."
"We're going in the wrong direction with our data, and things appear to be getting worse, and so we had to make a correction," Howell said.
Howell said he thinks the problems with EMS can be fixed now that Gallagher is out of the picture. Some of the EMS paramedics who left the department under Gallagher may come back, Howell said.
"There's going to be a desire for some people to come back," Howell said. "Wishful thinking here, but I believe there's going to be at least a few and maybe more. I think that one number I heard was maybe six, possibly even a dozen people who might come back potentially with the changes that have been made today."
In the next few weeks, Sedgwick County will search for an interim replacement from within the EMS department. Paul Misasi, deputy director of EMS operations, and Bill Robben, an EMS colonel, are in charge of the department until an interim director is named.
"What's next is we're going to listen to EMS professionals," Commissioner Lacey Cruse said. "We're going to listen to paramedics, we're going to listen to EMTs, we're going to them to be part of the search process to find a new leader for this organization. It's going to be a challenge because of the things that have happened over the past couple of months."
With Gallagher's resignation, Sedgwick County EMS is currently operating under the medical license of County Health Officer Dr. Garold Minns.
Deputy Medical Director Dr. Carolina Pereira, who turned in her 90-day notice earlier this month, declined to allow Sedgwick County EMS to operate under her medical license, Stolz said. The county could contract with a different physician to serve as interim medical director as early as next week.
___
(c)2021 The Wichita Eagle (Wichita, Kan.)
McClatchy-Tribune News Service