Johnny Gage from TV's Emergency! pays tribute to his heroes
Randolph Mantooth spoke about the role the show played in the birth of EMS in the U.S. at the 2008 EMS EXPO
---
By Maveric Vu
EMS1 Staff
LAS VEGAS — Actor Randolph Mantooth remembers visiting an EMS office one day and seeing stacks of VHS tapes of his popular '70s TV show, "Emergency!," used as department training videos.
"Oh my god," said Mantooth, who played the character Johnny Gage. "You know we're just doing this in Hollywood, right?"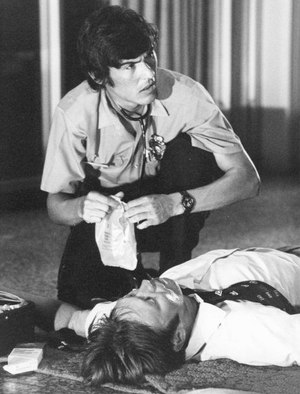 Mantooth recited the tale during the opening ceremony keynote speech Wednesday at EMS EXPO 2008 in Las Vegas. The speech largely focused on the role the show played in the birth of EMS in the United States.
According to Mantooth, countless paramedics, EMTs and firefighters have approached him throughout the years to tell him that watching the show led them to enter the profession.
"It inspired an entire generation of people who wanted to save lives for a living," he said.
Emergency! ran from seven years from 1972 and was based on the premise of two firefighter paramedics who risked their lives to save patients in exciting and dangerous situations.
Mantooth spoke of how the EMS industry back when the show started was radically different from what it is today. Paramedics and EMTs were still a relatively new and unproven profession that faced scrutiny within the emergency medicine field, he said.
Many experts tie the start of EMS to the 1966 white paper commissioned by the National Academies of Sciences that described prehospital emergency care "woefully inept" and that "basic life-saving techniques were non-existent."
Research pioneers
Mantooth paid recognition to four EMS research pioneers who, in reaction to the white paper, started forming the idea of firefighters as medics – Eugene Nagel, Leonard Cobb, Michael Criley and Walter Graf.
"[Firefighters] are highly motivated and turn out to be one of the most adaptable professionals in the world," Mantooth said.
As the four cardiac doctors faced resistance for their pilot programs in Los Angeles and Seattle, television producers in Hollywood searched for ideas for a new medical-themed show. Mantooth said the producer Robert Cinader spent time observing the activities of the ER and was captivated by something novel – firefighters with medical knowledge transporting to the ER.

According to Mantooth, the show had a great impact on audiences due to its attempt at medical accuracy. This was due in large part to EMS pioneer James O. Page, who served as the technical consultant for the show. Page even penned several episodes, including the fan favorite, "Snake Bite."
"It was so cutting edge that it coined a brand new phrase that no one had heard before: paramedic," Mantooth said.

He told the audience that it wasn't until several years after the show had ended that he realized the important role it played in bringing awareness to EMS and inspiring future professionals. He had to look to the past in order to address the future. Mantooth continues to speak to providers across the country regarding the history of EMS.
"I'm only the face," he said. "But you're the eyes and ears and hands of the doctor. You save lives. I'm not your hero, you're my hero."
Fond memories
Fred Fowler, executive director of Southeaster Mass. EMS, was one of many conference attendees who holds fond memories of the show.
"Randy doesn't understand what he did to kick start the profession in the 70s," said Fowler after the speech. Fowler watched the show when it premiered during his junior year at college.
"I was already interested in medicine and public service. The system was so disorganized back then. EMS hadn't caught on yet. [Emergency!] forced the point that it can work and does work."
Show attendee Paramedic Vuthy Roeum, with Medical Teams International in Seattle, didn't watch the show growing up, but he has seen its impact in countries like Vietnam, Cambodia and Sri Lanka.
"I go to developing countries to help develop their EMS programs," he said, "And these countries I visit are starting to watch Emergency! They love it."
Roeum said that people in these countries are asking the questions that United States medical experts dissected back in the 60s – who is going to pay for EMS and who is going to administer it?