Idaho city reverses plan to dissolve ambulance service
The city of Kamiah has hired a supervisor to oversee the fire and EMS departments following the departure of both department heads amidst ongoing conflict
---
Kathy Hedberg
Lewiston Tribune, Idaho
KAMIAH, Idaho — The Kamiah City Council stepped back from an earlier plan to dissolve the city's ambulance service and voted to hire a supervisor to take over the ambulance and fire department.
Kamiah Mayor Betty Heater said Thursday the council's earlier decision to disband the critical emergency medical technician staff had to do with personnel issues that she could not discuss. While acknowledging the council may have acted in haste, Heater said the decision to hire Leo Gilbride, of Caldwell, who will be on the job Monday, is likely to resolve the long-standing conflict between the ambulance service and the city managers.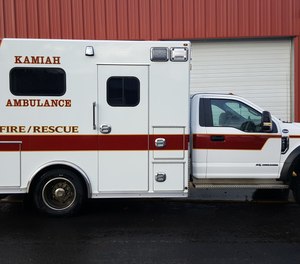 The ambulance crew "is very critical and so I'm very grateful that I found somebody" to lead the organization, Heater said.
Gilbride has private and military emergency medical and fire department experience and has worked in Idaho and Colorado in the medical field.
"He wants to build on the foundation that's been set (and offer) a deeper type of care that we need here," Heater said. "We live on (U.S. Highway 12) and we deal with head-ons, trauma, so many things, that having someone in the paramedic field here is going to improve and help all our whole surrounding area."
The relationship between the ambulance crew and the city has been uneasy for some time. Last December, 15 of 23 members signed a petition that said they would no longer respond to calls until certain demands were met, including moving the group away from an independent supervisor to the city's control. Those members were temporarily suspended until an agreement was reached, but both the fire chief, Dan Musgrave, and the EMS supervisor, Andrea Layne, recently resigned following ongoing conflict with the ambulance crew.
Heater said she expects order to be restored once the new supervisor is on the job.
"I am very confident that this will resolve all issues," Heater said.
———
©2020 the Lewiston Tribune (Lewiston, Idaho)
McClatchy-Tribune News Service