How Grady EMS managed 2 Ebola patient transports
Grady EMS's special operations team had been ready for this type of transport for years; here's how it all came together
---
Two hours.
That's all the time crews would have needed to prepare for the transport of an Ebola patient into the U.S., said Atlanta-based Grady EMS Interim Director Wade Miles.
"The majority of the planning was with the other agencies," he said. "Our team was ready to go at a moment's notice."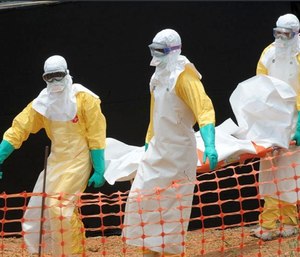 Instead, they had several days to get ready to transport two Ebola-infected American aid workers from a medical jet, into an ambulance, and to Emory University Hospital. Emory is just downhill from the U.S. Centers for Disease Control and Prevention, and one of four hospitals in the nation with an entire isolation wing — as opposed to more common isolation rooms.
Dr. Kent Brantly arrived on August 2, and walked on his own from the ambulance into Emory Hospital. Nancy Writebol was wheeled in on a stretcher three days later. They're being treated in an isolation unit and are improving thanks to an experimental drug.
Both contracted the virus while treating Ebola patients in West Africa. Ebola has been spreading faster than workers can contain it, killing more than 900 people so far. The two transports created a media frenzy and has raised public health concerns about bringing those infected with the virus into the country.
Miles has received more than a few questions from both civilians and fellow responders as to why he would put himself and his team at risk.
"The patients were coming here whether we said yes or no," he said. "We were just a small piece of the puzzle; I mean, we didn't really have a say. We could have said no. And then they would have hired another EMS agency that hadn't planned for it, hadn't thought about the risks and how to deal with them. And that would have been worse."
The team
Grady EMS's special operations team serves Atlanta and the surrounding region, and focuses solely on unique biosafety patients. It has safely cared for and transported many high-risk patients since it was first conceived in 2000, and over the years has evolved to meet the changing needs of those it serves.
At first, the team was focused on tactical SWAT-type responses; the team's development and training was fast tracked after the Sept. 11 terrorist attacks. In 2004, when Canada was hit hard by SARS, developing capabilities to safely care for and transport highly infectious patients became a collateral mission.
Grady EMS Commander Aaron Jamison said they wanted to have a way to safely care for and transport patients who were potentially part of a developing hotspot epidemic. In the Canadian SARS epidemic, paramedics and their families died as a result of contamination, and this team would prevent some of that from happening in Atlanta.
At the same time, the CDC was looking for a way to safely transport their workers in the event they were exposed to a pathogen either abroad, or on the CDC campus. Meanwhile, Emory hospital was building their specialized isolation wing.
The special operations team has since evolved into a well-trained and experienced group of paramedics that, along with the other sectors, has been prepared for something like the transport of an Ebola patient for more than a decade.
"I know there are nurses at Emory who canceled their vacations just to have the opportunity to take care of these patients," Miles said.
It's not so much the historical aspect — although that's been pointed out by the media — but rather the fact that they've been ready for so long.
"We've been training for this for 12 years," Miles said. "Planning for it, training for it. It's kind of like, a football team practices and they finally get to the Super Bowl, and someone says, I can't make it, it's on a Sunday. Not going to happen."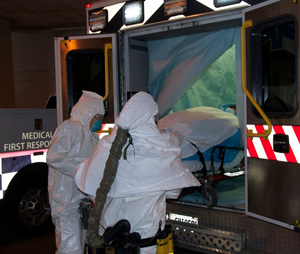 Grady EMS special operations team members practice the care and transport of patients with high-risk communicable diseases. (Image Grady EMS)
Who makes the cut?
The Grady EMS special operations team is currently five paramedics strong, with Dr. Alexander Isakov serving as medical director. Initially there were about 20 to 30 applicants, and members were selected based on many aspects of their personalities.
"We looked for diversity and attitude," Jamison said. Desirable traits include being well-rounded, having strong common sense, a good attitude, and a high IQ.
"Then we really looked at how they did on the street," he said. "Were they out-of-the-box thinkers? Could they multi-task? Were they known to be arrogant?"
The ability to think outside the confines of a protocol (often considered by co-workers to be arrogant) is valuable; each team member needs to take ownership of the plans, the protocols, and their actions.
Special operations tryouts lasted two days and had a heavy physical aerobic component — think hill sprints in gas masks. Applicants were trained to the point of exhaustion, with one applicant experiencing rhabdomyolysis and a few dropping out to visit the ER.  
"Our tryouts were more rigorous than the police department SWAT team tryouts," Jamison said.
Finally, applicants took a written test.
"We didn't want quitters," he said. "Quitters can cost another person's life."
Grady's concept has always been to go one step above the recommendation, Miles said. And this held true for the Ebola transports.
"We certainly could have run the mission with an N95 [mask] and goggles," he said. "But even though it's not airborne … if someone vomits … it still could get onto you."
Preparing for the transport
Inside the ambulance they installed impermeable plastic draping to completely surround the patient and paramedics. This draping is designed to contain any infectious substances and make decontaminating the patient compartment easier. The bottom layer forms a bowl shape so that any fluids do not migrate to other areas of the ambulance.
The Ebola patients were transported from Phoenix Air's medical jet, to Grady's specialized ambulance.
"Phoenix Air has this big encapsulating thing they put the patient in," Miles said. "And then you look at the ambulance, and it looks low tech."
But that's not necessarily a bad thing. Wade says that although the ambulance draping looks low tech, it is effective and can be installed in any ambulance, creating versatility not seen with a higher-tech solution.
"What we've come up with over the years is that for us, low tech is the way to do it," Miles said. "Because we could use any ambulance. We could take our techniques, if we had to, to Africa with an ambulance and use them. We've talked about trying to design something a little more high tech — but why? If it's not broke, don't fix it."
The paramedics also donned protective DuPont suits with powered air purifying respirators, a system all Grady paramedics and EMTs are familiar with.
In this case they were used primarily for comfort, not becaue of an airborn threat. Wearing these systems also creates safety redundancies that protect the paramedics should anything unexpected happen, Jamison said.
When it comes to patient care, Miles said they have unique guidelines that address a myriad of presentations, but they also have immediate access to the team physician if necessary.
"The beauty of it," he said, "is we have a medical director on site, so any protocol we need to alter at the last minute, we can."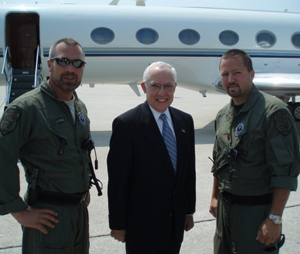 Grady EMS Commander Aaron Jamison and Grady EMS Interim Director Wade Miles. (Image Facebook)
The arrival
On the day of the transport, Grady paramedics accepted care from Phoenix Air providers and started the trip through downtown Atlanta. During the transport, they were shadowed by multiple protection vehicles due to the high media and public attention.
"We had a security detail," Miles said. "I'm not going to talk a whole lot about it, but a lot of vehicles that looked like regular vehicles were a part of us."
Upon arrival at Emory, the first patient walked into the hospital and the second patient was wheeled into the hospital with only oxygen being administered. Another identically-prepared ambulance was standing by in the event of something unexpected, like a vehicle collision.
Miles and Jamison both said the transport was routine, uneventful (excluding the media coverage) and successful. They point out that they were but a part of a larger system that performed as designed, to care for people who need specialized care and transport.
Neighborhood gossip
Miles said the controversy surrounding the patient was a bit surprising, especially the concern from health care providers. His family was also concerned at first, but he helped put them at ease.
The night before the mission, he sat down with his wife and daughter, and explained that as one of the team leaders, there were no plans for him to be in direct contact with the patients.
"I was able to educate my daughter on how Ebola is spread," he said. "After the conversation there was a little apprehension with my wife still, but my daughter's fears were relieved."
Afterwards, he said his wife noticed that some of the neighbors were a little standoffish, and tended to corral their kids away from her and his daughter.
"They didn't stand around and talk like they normally do," he said.
But at the end of the day, both patients were safely transported to Emory Hospital, where they are now recovering. And they have Miles, Jamison, and the rest of the Grady EMS special operations team to thank, in part, for their lives.  
"There's no way," Miles said, "any one of us would have missed the opportunity to do this."