'EMS Strong' celebrates the bonds that encourage, inspire EMS providers
EMS1 leaders reflect on the fitting theme of EMS Week 2018, and how their colleagues have furthered their own careers and contributions to the field
---
By EMS1 Staff
EMS Week 2018 is upon us, and we've got you covered with resources for celebrating and commemorating the occasion. Check out this video of how EMS departments across the country are celebrating EMS Week; recognize the Ferdinand Magellans, Yodas and Cliff Clavens of your agency with EMS Superlatives; and learn how to create a culture of recognition by empowering EMS providers.
This year's theme is "EMS Strong: Stronger Together," and we've compiled a collection of musings from EMS1 contributors on what "EMS Strong" means to them, and how relationships with colleagues are integral to a rewarding EMS career.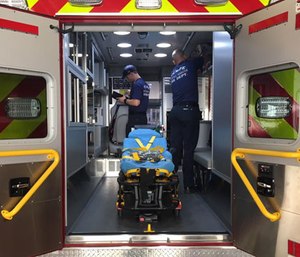 EMS family is always there for each other
Despite the fact that we typically work with only one other partner, EMS is a strong family and EMS colleagues have become my closest and most trusted friends. We eat together, train together, spend a lot of time telling stories together and often spend our free time with each other.
There's a definite personality type to an EMS provider, one that I can almost pick out of a crowd, and likely forms the glue that keeps us together. In good times and bad, my EMS family is there for me. I can count on them to continually challenge me to do better, to be nicer and to be there for each of them.
—Mike McEvoy, EMS coordinator, Saratoga County, N.Y.
A co-worker inspired a paramedic career
I distinctly remember a conversation that I had with a former co-worker who inspired me go to paramedic school. Our one-on-one conversation was the push that I was looking for to make that leap. I was a new (and young) full-time firefighter/EMT and was unsure of how the culture of the organization would view my ambition, whether or not it was a career step that I needed to take, and whether it was a commitment that I was really intending to invest in.
After our talk, I was convinced that it was the best move that I could ever make. Thanks, Scott!
—Tim Nowak, AAS, BS, NRP, CCEMT-P, SPO, MPO, founder and CEO of Emergency Medical Solutions, LLC
EMS mentors developed confidence through a safety net
Over the years, my mentors have helped me develop confidence. Without it, I'm not sure that I – or an EMS provider at any level – would truly thrive. They did this by letting me learn and experience while they provided a safety net. For this, I am forever grateful.
Looking forward, I'd add that fostering the concept of resilience in addition to confidence seems to be key for the strong EMS provider today and tomorrow.
—Daniel Limmer, co-founder and chief pass-ologist, Limmer Creative, LLC, and a member of the EMS1 Editorial Advisory Board
Online EMS partner was a source of strength
Early in my EMS career, I was regularly strengthened by Steve Whitehead's articles on theEMTSpot and his EMS1 column. One of Steve's regular themes that inspired and resonated with me is that we have choices in our decision to serve as caregivers. Because of Steve's encouragement, I have chosen to be:
Positive in my contributions to the EMS profession.
Focused on the needs of patients I care for.
Selfish with allocating my time with family instead of overtime work.
Thirsty for more knowledge through continuous learning.
Thanks Steve for making EMS stronger, together.
—Greg Friese, MS, NRP, is Editor-in-Chief of EMS1. He is an educator, author, paramedic and marathon runner
Behind-the-scenes team members help EMS improve service
As we celebrate EMS Week, we also recognize the many people behind the scenes: emergency telecommunicators who remain calm during chaos while answering 911 calls, fleet maintenance and logistics personnel who keep ambulances and other response vehicles running and supplied with life-saving equipment, administrative teams who keep the lights on and continuously look for ways to improve services, EMS physicians who perform critical clinical oversight, and educators who prepare caregivers to face whatever they encounter.
—Heidi King, deputy administrator of the National Highway Traffic Safety Administration
Colleagues continuously strive to learn
I regard my participation in this profession to be an honor, privilege and a daily reminder that life is short but for the most part wonderful. I work with amazing people who continuously strive to learn as much as they can about the human body and the human condition, with all its strengths and frailties, so they can be the best provider possible when they are called upon.
—Nancy Magee, offers her Volunteer Survival Series workshops and consulting services through MEDIC Training Solutions to agencies across the country
Relationships are the key to a rewarding EMS career
The key to a rewarding career in EMS is not the medicine we practice or the agency that employs us, but the relationships we cultivate. As I told a class of paramedic school graduates:
"Even when technology and the forces of healthcare finance have radically transformed the face of your profession, there will still be patients, there will still be practitioners, and there will still be peers. And your relationships with each of them will be what make the difference between your life's calling and paramedicine being just another job."
—Kelly Grayson, NRP, CCEMT-P, a critical care paramedic in Louisiana and a member of the EMS1 Editorial Advisory Board