Attorney: SC firing over Facebook video likely legal
An attorney gave advice to a session at EMS Today in Baltimore regarding the growing issue of responders posting media online
---
By Jamie Thompson
EMS1 senior editor
BALTIMORE — A department's firing of a firefighter-medic over a video he posted on Facebook was extreme but likely legally safe, a session at EMS Today was told on Friday.
Jason Brown created the three-minute clip — featuring a responder and a doctor — on an animation program before posting it on the social networking Web site.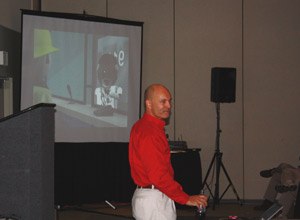 After being alerted to the clip last month, his supervisors at Colleton County, S.C., Fire-Rescue terminated his employment, claiming the video created an embarrassing situation for the department.
Steve Wirth, of Page, Wolfberg & Wirth LLC, a national EMS-industry law firm, told a session at the conference in Baltimore that employees of public agencies — unlike private — do have some constitutional rights in the workplace.

"It does include the right to speak out on matters of public concern. But the same protection does not apply to matters of private concern, including employment related issues and grievances about work policy generally," he said.
Wirth said elements of the video — which Brown said he created to highlight the frustrations EMS providers can face — could be deemed as dealing with matters of public concern; specifically responders' time being tied up with minor calls.
He told the session while it could be deemed as "protected speech," parts of the video that did not involve matters of public concern could be used as reasons for dismissal.
In the clip, the last name of a doctor who works at Colleton Medical Center is mentioned and there is also reference to a meeting that occurred between the center and the department on how to handle inter-facility transfers.
"He talked about a specific meeting between the two agencies; he actually mentioned the name of a doctor," Wirth said.
"I think that this is a difficult case. But I do think there's enough here that quite likely the public agency employer could meet the burden (of proof)."
However, Wirth said the dismissal brought heavy media attention onto the department, and he queried whether Brown had been previously warned about his behavior or given a chance to correct his actions, or if the department had a policy in place regarding Internet postings.
He told the session that the termination could certainly be seen as extreme, but from a management perspective such actions are sometimes necessary.
"I think sometimes when you look at a situation like this you want to look at the total picture and think about the context, think about the ramifications long term," Wirth said. "Sometimes you need to send a message, sometimes it's appropriate to make someone an example to make sure everybody tows the line and follows standards of behavior."
Wirth commented on the video during a session called, "Legally regulating on- and off-duty conduct in today's multimedia environment."
The attorney, who has 30 years of experience as an EMT, paramedic, flight paramedic, EMS instructor, fire officer, and EMS administrator, said there is a growing issue of responders posting material online.

"It does not make you stupid — it just makes any stupidity more accessible to others," he said. "It's amazing what people want to expose out there on the Internet in the form of photographs, statements."
He warned against responders posting sensitive material from calls they have attended in any format online, particularly photographs or specific details of the incident.
"When I go out on a call now it's normally one of the big ones — I'm on cloud nine for two days afterward," Wirth said. "That's my high. But you have got to remember that it's someone's low, too."
The session was told agencies could help alleviate potential issues by introducing monitoring polices such as:
Adopting Internet-specific codes of conduct regulating employees' use of blogs and social networking sites during and outside of work hours
Considering limitation on use of company equipment for social networking sites
Requiring employees to sign confidentiality agreements
When it comes to disciplinary action, Wirth said management should consult with legal counsel before disciplining or terminating an employee for off-duty activities and use caution in disciplining for off-duty conduct that is legal but considered immoral, offensive or inappropriate.