Letters to Santa Medic: Cardioverting the Grinch, favorite apps and an EMT named Larry
Between nonemergent calls, lift assists and dropping the agency's owner off at the airport, Santa Medic responds to a pile of letters
---
In my neighborhood, multi-colored lights bathing snow-covered lawns in late December can mean only one thing: Christmas.
Or maybe Mr. Spivak thought his cat was stuck in a tree again, called 911, then remembered he doesn't have a cat. Or a tree.
Okay, so multi-colored lights bathing snow-covered lawns in December can mean two things, one of which is Christmas. Good enough. Then it's time for Santa Medic to answer letters from boys and girls, mommies and daddies, nannies and au pairs, BFs, BFFs and BFAFAs. OMG!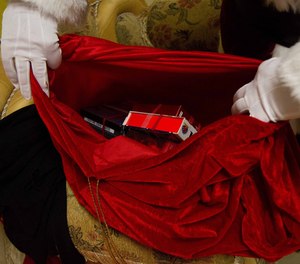 This year's mailbag is full, so let's get started before Santa Medic gets toned out for another sleigh versus snowman.
Dear Santa Medic,
I want a puppy for Christmas. My mommy said to ask you.
Billy
Dear Billy,
Your mommy must have me confused with Santa Firefighter. He has a puppy at his firehouse. If he won't give you that one, he has lots more money than Santa Medic to buy you one.
Santa Medic
Dear Santa Medic,
I never got that new stethoscope you promised me last year. I had to keep using my partner's, which is grossing me out. Is there anything you can do?
Kate
Dear Kate,
I'm dispatching an elf with a brand new Cardiology III just for you. Last year's gift got misplaced when we installed new software that routed all gifts through the North Pole.
Santa Medic
Dear Santa Medic,
I just bought a smartphone. Can you recommend any EMS apps?
Fred
Dear Fred,
The favorites here are Friends with Germs and Angry Triage Nurses.
Santa Medic
Dear Santa Medic,
I want to grow up to be a medic just like you. What subjects should I study in school?
Colby
Dear Colby,
Do they give classes in power napping? Speed eating?
Santa Medic
Dear Santa Medic,
Do you get any time off during Christmas?
Eric
Dear Eric,
No, they have us working 12-day shifts. By the end of the first week, you can't tell swans-a-swimming from maids-a-milking.
Santa Medic
Dear Santa Medic,
You don't sound very jolly. Are you okay?
Randi
Dear Randi,
Santa Medic is fine, except when he starts referring to himself in the third person. Doctors say Santa Medic is trying to distance himself from himself. Even if that were true, Santa Medic thinks it would hurt too much.
Santa Medic
Dear Santa Medic,
How come you don't have your own Facebook page?
Rob
Dear Rob,
Santa Medic tries to avoid publicity unless he's done something really special, like cardioverting a Grinch.
Santa Medic
Dear Santa Medic,
I want to be an EMT. What books should I read to learn more about EMS?
Pete
Dear Pete,
Start with these books:
"If it Quacks Like a Duck, It Must Be a Zebra: More Than 100 Tedious Medical Clichés."
"Two Plus Two is Somewhere Between Three and Seven: A History of Cardiac Arrest Research."
"The Ride-Along From Hell: An Aspiring EMT's Story of Life, Death, Fast Food, Don't Touch That and Bad Smells."
"Sleep: Just Say No: One Agency's Experiment With 168-hour Shifts."
Santa Medic
Dear Santa Medic,
I like helping people. Can I be one of your elves?
Dan
Dear Dan,
Sure, but first you have to take ACLS — Advanced Cobbling and Loading Stuff. Then you get tested by other elves who've been making toys for many years. Don't worry, it's no big deal; if you don't pass the first time, you get to keep trying until you do.
Santa Medic
Dear Santa Medic,
Have you ever been a patient?
Kevin
Dear Kevin,
Only once. The hospital put Santa Medic on a bed in the hall, gave him a gown that wouldn't stay closed, fed him some milk and cookies left over from last Christmas, then hooked him up to an IV that made Santa Medic have to pee so badly, he kept rushing down the hall to the bathroom — a sight that gave Santa Medic's "rosy red cheeks" a whole new meaning.
Santa Medic
Dear Santa Medic,
Do you have any reindeer? Can I borrow one?
Tracy
Dear Tracy,
Nope, no reindeer, but we have a new guy named Larry. Do you want him?
Santa Medic
Dear Santa Medic,
How do you move your sleigh without reindeer?
Tracy
Dear Tracy,
Our sleigh runs on diesel now. It's much easier to turn a key than to start every trip with that whole "Now Dasher, now Dancer" chant. Remembering the names of all those reindeer was harder than pharmacology.
Santa Medic
Dear Santa Medic,
Do you ever use your sleigh to take people to the hospital?
Nancy
Dear Nancy,
Santa Medic tried that once when one of the elves took too much Ritalin, but we got diverted to a tertiary care center in Antarctica. Now we call Uber.
Santa Medic
Dear Santa Medic,
I'm tired of carrying drug boxes, monitors and O2 on almost every call. Can you suggest an alternative?
Ian
Dear Ian,
Did I mention Larry?
Santa Medic
——
Santa Medic welcomes your questions and suggestions in the comments. But before he answers, he needs to check with and receive approval from his field supervisor, battalion chief, PIO and medical director. Expect a response sometime before Christmas … next year.