EMS icon Lou Jordan dies
Lou "Uncle Lou" Jordan was a National EMS Museum executive and Rocco Morando Lifetime Achievement Award recipient
---
By EMS1 Staff
UNION BRIDGE, Md. — EMS leaders are mourning the death of Lou Jordan.
According to a Facebook post by his son, Jordan died Saturday. Jordan was a National EMS Museum executive and a 2005 recipient of the Rocco Morando Lifetime Achievement Award.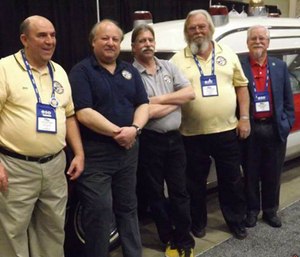 During his career, Jordan worked closely with R. Adams Cowley at Baltimore Shock-Trauma and was also the State EMS Training Officer for the U.S. Virgin Islands. Jordan's online store, Emergency Training Associates, supported EMT and paramedic students, as well as EMS educators.
"While he will be greatly missed, we will do our best to continue his legacy of commitment to cause and friend alike," Jordan's son, Joe, said. "As long as our collective efforts continue, his memory will live, therefore he will live."
Nancy Perry, Police1 Editor-in-Chief, a long-time friend and colleague of Jordan, said he was a "larger than life personality with a heart to match."
"He was many things: an EMS legend, trailblazer, loving husband and father, but above all, a friend to all he met," Perry said. "Uncle Lou – for those of us lucky to have known him – would call out of the blue to just check in and ask how you were doing. That's just the kind of man he was. And if you ever needed anything, both Lou and his lovely bride, Marion, would do whatever they could to help. Love and miss you already, Lou."
"EMS lost a true legend today, and I lost a dear friend and mentor," Kelly Grayson, EMS1 columnist, said. "He was a humble giant in our profession. Most of those things you read about in the first chapter of your EMT textbook, he was there when it happened, if not an integral part in making it happen."
EMS1 co-founder Kris Kaull said Jordan always listened to what he had to say.
"He put his arm around me and gave me a voice," Kaull said. "He believed in me and changed my future. You will be missed and yet your legacy will live on."
You can honor Jordan by supporting the National EMS Museum through volunteer work or donations.