Integrating mass-fatality management into EMS
Mass-fatality incidents (MFIs) occur when there are more decedents or remains than the available resources can handle, when there are 10 or more fatalities, and when the incident involves a protracted and complex remains-recovery operation
---
By Drew Johnson, EMS1 Editor
What role can medics play in mass-fatality incidents?
You can't have mass-casualties without mass fatalities, Donnell Harvin, Deputy Director of the Special Operations Division in the office New York City Medical Examiner's office, said at an EMS World Expo session Friday.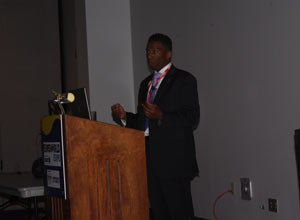 That's an important distinction to recognize, because medics can play a role in managing mass-fatality incidents that is very different than their normal work.
Mass-fatality incidents (MFIs) occur when there are more decedents or remains than the available resources can handle, when there are 10 or more fatalities, and when the incident involves a protracted and complex remains-recovery operation.
The time period that these cases cover can be much longer than your average call, Harvin said. Where most EMS cases last, at most, a few hours, mass-fatality cases can stretch over weeks or months.
MFIs can be natural (usually chemical or weather-related disasters) or manmade (fires, plane crashes, mass-shootings or structural attacks). Hurricanes are the most common MFI, with a staggering 229 deaths per major storm.
The average number of deaths in an MFI is 57, but since these incidents are relatively rare, local response systems don't usually prepare for them.
In EMS, people who are used to dealing with the living have to deal with the dead," Harvin said. "But you have problems with triage when you get the living mixed with the dead."
Managing mass-fatality incidents
"Planning for both mass-casualty and mass-fatality incidents will need to encompass every eventuality, from plane crashes to terrorist chemical attacks," Harvin said.
The primary objectives in managing an MFI include:
Establishing jurisdictional authority; in most cases authority will fall to the coroner or the medical examiner
Ensuring all operations are conducted in a safe manner
Providing family and friends of victims with a single, centralized mechanism for reporting and communicating directly with the managing agency
Providing family with timely information in a compassionate manner in advance of public release
Establishing a support system for family that allows for the accurate and efficient acquisition of ante-mortem data to facilitate victim identification process
Conducting the rapid return of decedents to their legal next of kin where possible
On the scene, the coroner or medical examiner will likely set up a field mortuary to handle the victim's remains, and EMS may set up a "black tag" section of their triage station that abuts the field mortuary.
"It's important to separate the dead bodies from the living," Harvin said, "both to prevent contamination as well as the demoralizing effect of dead bodies on those who are treating the living."
In the first few hours after the incident, responders should expect mass confusion. "I've seen cops running around waving their guns, firefighters bringing out hoses. People need to do something to feel important. Our role is to focus these people."
The medical examiner will establish communications, often by tapping into the EMS network to start to get a sense for casualties and body-count. At first, the best information may come from the news media, Harvin said.
Medics will often have to contend with investigative agencies like the FBI, who may have to interrogate patients on their way to the hospital. With some incidents, nobody will know if terrorists were behind the destruction, Harvin said, so investigators will be asking all the living survivors questions about what happened.
Conclusion
The bottom line, Harvin said, is that mass-fatality incidents are complex, often involving numerous local, state, and federal agencies. It is tremendously important that medics drill for these types of incidents with all relevant agencies.
"Failure to prepare for these types of incidents will result in a complete failure of your disaster emergency response plan," Harvin said.