Tips for connecting with patients detailed at EMS Expo in Dallas
Treating patients with respect and being authentic are a vital part of being an EMS provider, session told
---
By Jamie Thompson
EMS1 Staff
DALLAS — Tips for building rapport and making connections with patients were outlined during a session at EMS Expo in Dallas on Thursday.
Steve Whitehead, a firefighter-paramedic at the South Metro, Colo., Fire Rescue Authority, said treating patients with respect and being authentic are vital parts of being an EMS provider.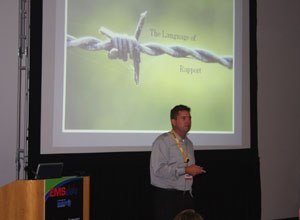 Whitehead, who authors TheEMTSpot.com blog, said when he began his career in the industry, being able to make connections with patients was the main skill he had.
"I don't think that the paramedic skill set ever came really naturally to me," he told the session. "All of my clinical knowledge I always had to work hard for.
"But for one reason or another, this — interacting with people — is one area that came naturally to me."
Whitehead told the session that he has always been interested by the things responders say that build rapport and connections with patients.
"There's not a lot of research out there, it's fairly off the cuff but it's a subject worth spending time on," he said. "It's worth making an effort towards."
"Everything we do builds upon our rapport with our patient. All of those clinical skills, all of it becomes more effective when we have these skills and the ability to communicate effectively with people."
According to Whitehead, three keys area to build a rapport are:
Get intelligence
"It starts as you go through the front door — start to pay attention," he said.
"What's there and what's not there? People's homes are like shrines to them. We create our homes to match what we are. Before I reach the patient, I already have several ideas of things I want to ask them about themselves.
"If you're not going into somebody's home, what they wear tends to tell a story. Even tattoos — most people really think about them before they get them. Ask about it — people love to talk about it for the most part."
Smile
"Why don't we smile more in pre-hospital care? I run into very few emergencies that are so serious that I can't greet my patient with a genuine smile."
Come to eye level
"Get into the habit of getting to eye level with the person. While scene safety is always an element of every call, that doesn't mean we can't kneel down in front of most people we interact with.
"Sometimes we have the bad habit of wanting to stand over our patient, we want to be authoritative."
However, he told the session that simply following these tips is not enough to gain the confidence and respect of patients.
"If you're a jerk, and you use these tips and phrases to try to influence people, they are going to know as much," he said.
"And if you do nothing to work on your jerkiness and you try to learn these things, there's always going to be that incongruousness.
"If you want to be liked, be likeable. If you want to be perceived as caring, then care."