Poll analysis: How prevalent are degrees in EMS and are they necessary?
A recent poll found that nearly 70% of those who responded hold either a bachelor's or master's degree in an EMS-related field
---
The topic of degree requirements in EMS elicits strong reactions from industry professionals, most of whom have a firm stance on the subject. However, as medical advancements, staffing issues and the function of EMS continues to evolve, it's important to revisit the topic.
We asked EMS1 readers if they hold a bachelor's or master's degree in an EMS-related field. Of those who responded, 68% said they hold some combination of a bachelor's degree and/or master's degree, while 32% have no degree.
What are your thoughts on degree requirements in EMS? See how readers responded, and leave a comment below to be added to the article.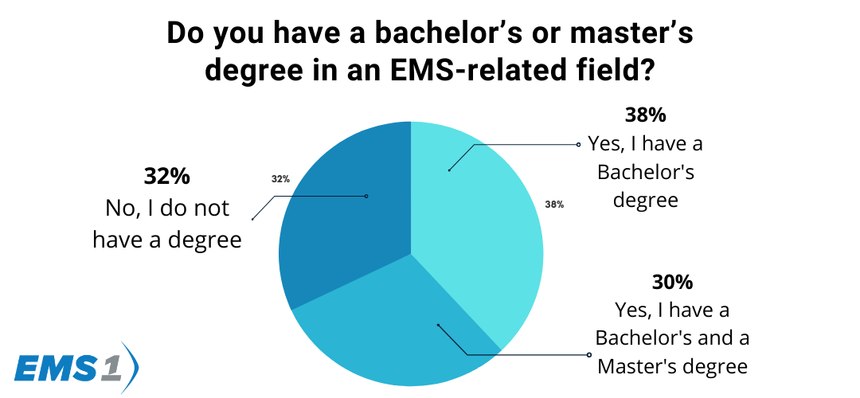 What EMS providers are saying
"I have worked with plenty of paramedics who took a nine-month class and were excellent providers and some degreed medics who I was surprised passed the state exam. So, do paramedics need degrees, no, but we do need paramedics now! Forcing 2-year degrees has caused more issues than helping with anything."  — Kimberly Page Bouser
"In my opinion, paramedics should be a trade program. You don't need a degree to be a competent provider. Being a good provider comes from the individual doing the care. If the provider is compassionate and motivated, then that will show in the quality of the care they provide. I don't care if they have a degree or not, the license says paramedic, just like everyone else's."  — Jared Engelke
"The short answer is NO. What is needed is a motivated individual and a real NREMT that verifies both the cognitive and psychomotor skills. We are headed into dangerous territory with the doing away with the psychomotor exam. There will be folks out there cardioverting ST from a GSW or dehydration or active GI bleed. The model of using a testing system like the RN does NOT work. The RN is NOT allowed to be near a PT unsupervised in a critical situation without direct oversight. The newly hatched medic with the ink still wet on the card is sent out with a Basic or a first responder as the ONLY skilled EMS provider on the unit. No experience and no mentorship mandated in either the pre-COVID or post-COVID world … the model does not work … but it will be forced upon us."  — Gary Childs
"The fact that we are still asking this question is depressing and why the rest of healthcare don't take us seriously.
Associates for entry, Bachelor's for specialty care (critical care/MIH/CP), Master's in non-EMS-related administration for organizational leaders."  — Russell Carter
"I believe a degree is beneficial. I used to teach EMT and I came across many nearly illiterate students. This is often found when doing QA on reports. Reading and comprehending medical terminology is crucial. If we are to be recognized as a profession rather than a trade, we need to legitimize it with a degree program."  — Alejandro Gonzalez
"Should EMS require a degree? Absolutely not. Does it help in patient care? No. There is a shortage because of retirement, poorly ran agencies and people getting out because of the mindset that is coming into EMS. Experience to a lot of newcomers is met with the attitude of the Millennial generation. If something goes wrong, they are patted on the back and nothing is done as far as retraining or education. Somewhere along the line, it has been softened down that they are making life decisions for another person. EMS is a dead-end job. Especially for those working in a municipal government, at least in our area. So no, one does not need a degree. They need care, respect and the ability to do the job in a professional manner."  — Cathie Johnson