Estate of deceased paramedic donates $9,400 for new training simulator
The instructional ambulance simulator for the Southwestern Illinois Community College paramedic program carries on the legacy of paramedic Michelle Heap
---
By Robyn L. Kirsch
Belleville News-Democrat
BELLEVILLE, Ill. — "It's a way to carry on her legacy," Debbie Braun, the late Michelle Heap's best friend and estate executor, said recently of a donation made to Southwestern Illinois Community College (SWIC).
With a $9,400 check from the Estate of the late Michelle Heap, a 21-year veteran paramedic with the O'Fallon EMS department and long-time instructor, future EMS and paramedic students at SWIC will have the latest in cutting edge technology to help give them real-to-life experience in the classroom before being let loose in the workforce, Curt Schmittling, EMS and Parmedic program coordinator, said.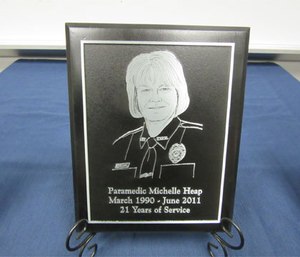 "We actually worked together for a long time, and she was very passionate about her work and teaching," Schmittling recalls.
Soon one of O'Fallon EMS ambulances will be used for parts to create SWIC's first instructional ambulance simulator for its EMS and Paramedic program, which Schmittling, is calling "all for a good cause."
"It was an ambulance that had been in a crash previously, and since O'Fallon EMS has replaced it with the department's fourth ambulance," Schmittling said.
As it turns out, this will allow SWIC to utilize damaged equipment that may have ended up in a junk yard and preserve the sentimental value, while maximizing efforts of the campus staff to build a frame and retro-fit the old to make something new.
"It turns out, Michelle drove that ambulance before she died," Schmittling said, as he also used to work for O'Fallon EMS too.
Braun of Freeburg has been doing fundraising with locals, family and friends since Heap passed in 2011 unexpectedly from sudden illness following a camping trip in Missouri.
"It quite literally made the hair on my arms stand up when Curt told me — it's good karma," Braun said.
With Heap's estate finalized nearly, Braun said it was time to pick a worthy cause that Heap would've wanted.
"Although she's gone, people will go on remembering her through this (donation) because it is what Michelle loved to do, and she did it everyday, living the life of a paramedic and teaching students to go on to be better paramedics," Braun said.
Schmittling remembers his former fellow supervisor fondly as an energect and positive person.
"She was a real stickler with ensuring students knew what they were doing, and she would tell you exactly what she was thinking with no filter really," Schmittling said laughingly. "We never had to guess with her, and that was her strong suit because she was able to give the students the feedback they needed."
Braun had similar things to say about her bestie, who she said "died to young at 46, and left a big hole in our hearts."
"There's wasn't a dull momment when she was around. She was so funny and always upbeat, sometimes a little brass but that was her nature, and everyone adored her for it," Braun said.
In a given year there are typically 100 Emergency Medical Technician (EMT) students, Schmittling said.
"In order to be a paramedic you have to be an EMT first. I know that most if not all of the O'Fallon EMT's and Paramedics went here, and some still come here specifically to log ride-along hours with one or our instructors Kim Lamprecht, who is also a veteran O'Fallon EMS supervisor, as well.
"It's great what they are doing, in fact I helped clear out the lab room it's going to be housed in," Lamprecht said recently about the project.
The simulator will take up a quarter of a lab room, and the flooring is being upgraded from concrete to laminated tiling, according to Schmittling.
"This simulator is one of those things that have been on the wish list. They are very expensive, and we didn't have the funds in the forseeable future, so without this donation we wouldn't have this addition to offer our students," Schmittling said.
Only so much can be taught in a classroom, so the simular will assist in engaging the students for scenario simulations with a real environment.
"It will be really instrumental in the future of the program itself and the quality of instruction the student will receive," Schmittling said.
This is the first donation ever being made to the SWIC EMS and Paramedic program, Schmittling said.
"Now we are really started to move forward as one of the area's leaders in this form of instruction for EMS and Paramedic training," Schmittling said. "Lewis and Clark Community College, Rend Lake CC, Lindenwood and Southern Illinois University of Edwardsville don't have one."
———
©2016 the Belleville News-Democrat (Belleville, Ill.)