Calif. student EMTs help transport quarantining classmates
The University of California, Davis Fire Department offered its EMS utility vehicle as a solution for relocating on-campus residents
---
By Laura French
DAVIS, Calif. — Student EMTs at a California university are assisting fellow classmates who need to quarantine for COVID-19. 
The University of California, Davis (UC Davis) relocates students who live in shared on-campus housing to separate apartments for quarantine or isolation if they test positive for or are exposed to COVID-19, according to a UC Davis news release. This relocation process can sometimes prove difficult for the many students who don't have their own vehicles.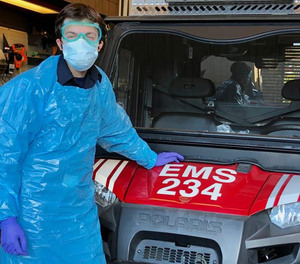 "A lot of people come to campus without cars, without transportation," said UC Davis Fire Chief Nate Trauernicht, in a statement. "How do you take these folks who need to take their personal belongings and how do you safely get them there without them asking a friend and exposing a friend?" 
Collaboration between the UC Davis Fire Department, Student Health and Counseling Services and Student Housing led to a solution; the fire department would offer its EMS 234 – a small, six-wheeled utility vehicle normally used for large events like football games – as a means of safely transporting students and their belongings to quarantine. 
UC Davis student EMTs drive the vehicle, which has been modified with extra partitions, to pick up the students who need to quarantine, and remain protected with full PPE and special protocols to keep the EMT and their classmate separated. The vehicle was used for the first time on Jan. 5, transporting two students to their quarantine spaces.
Student Health and Counseling Services Medical Director Cindy Schorzman said making the quarantine process easier for students can make them more likely to successfully complete it. 
"We often reach out to students in need of quarantine or isolation who can't effectively isolate or quarantine in their own space but do not have transportation," Schorzman said in a statement. "Helping them transport themselves and their essential belongings to their quarantine/isolation space helps set the tone for a good experience, and in some cases makes the difference between whether they can effectively move into this space at all." 
As of Jan. 11, there were 84 students quarantining in UC Davis campus apartments. 
Branden Petitt, director of the Office of Student Development in Student Housing and Dining Services, said transportation makes the quarantine process "more seamless." 
"Anything we can do to make the student comfortable while they isolate and continue with their studies only helps in preventing the spread of the virus," Petitt stated. 
University officials are now exploring the possibility of expanding the service to students who life off-campus. 
UC Davis EMS students have also been assisting in the rollout of the COVID-19 vaccine for Yolo County first responders, greeting and directing first responders at vaccine sites and providing other support.