Man accused of stabbing W.Va. EMS provider found guilty after previous mistrial
The EMT suffered significant injuries in the assault almost a year ago
---
By Erin Cleavenger
The Dominion Post
MORGANTOWN, W.Va. — Monongalia EMS personnel are ready to move forward after David Lawrence Bandy, 31, of Jourdanton, Texas, was found guilty of malicious assault of emergency services personnel during a jury trial in Monongalia County Circuit Court this week.
In November 2021, Bandy was transported by ambulance to Mon Health Medical Center for treatment after being found unresponsive in his vehicle. During transport, Bandy unbuckled his restraints and began attacking paramedics in the back of the ambulance, stabbing an EMT multiple times in the torso and hand during the struggle.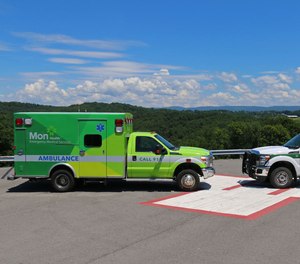 The EMT suffered significant injuries in the assault but was able to recover.
This was the second jury to hear Bandy's case — a trial in June ended in a mistrial after jurors could not reach a unanimous verdict.
Forest Weyen, executive director of Mon EMS, said the incident had an effect on the entire department and they were glad to see justice for their colleague.
"All of the EMS professionals at Mon EMS were relieved to hear about the verdict as we were all eager to see this case completed and close this chapter, " he said. "We now can focus more of our efforts to supporting the professionals at Mon EMS as we continue to process and come to terms with this incident and subsequent downstream impacts.
"The significance of events like this hitting home not only take a physical toll on those injured, but have a long-lasting and widespread impact on all of the EMS professionals at Mon EMS and our colleagues in law enforcement and fire, who every day walk into unknown conditions to protect the safety and health of all."
While Bandy awaits sentencing for the assault, Weyen said Mon EMS will continue to focus on developing processes to protect their providers.
The agency is implementing programs to help deal with the mental toll that is placed on first responders—as well as finding new and innovative ways to support their providers.
Weyen said they are also working to procure equipment like body armor to ensure EMS workers have the tools they need to stay safe and are working with other public safety providers like law enforcement and fire to ensure they all can continually improve their processes and collaborative responses.
---

Read next
EMS response is often considered safer than firefighting, but is it?
The dangers to EMTs/medics are less well known to the general public than firefighting, even at times to the agencies where they work
___
(c)2022 The Dominion Post (Morgantown, W.Va.)
Visit The Dominion Post (Morgantown, W.Va.) at www.dominionpost.com
Distributed by Tribune Content Agency, LLC.
McClatchy-Tribune News Service