Woman writes touching tribute to EMS providers
"This is My EMS" by Leah Ferrone calls upon the public to let EMS providers know their work is appreciated and get to know them better
---
By EMS1 Staff
SARATOGA SPRINGS, N.Y. — A woman wrote a touching tribute to EMS providers after working with 100 paramedics and EMTs.
"This is My EMS" by Leah Ferrone calls upon the public to let EMS providers know they are appreciated, ask them better questions and learn more about them.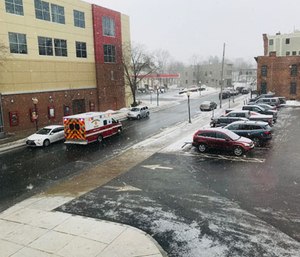 Ferrone said in the post that while "paramedics and EMTs are in a 'savior and protector' league of their own," they are often "extraordinarily humble."
"Over my four-year tenure, I witnessed providers calmly respond to approximately 27,000 calls for medical emergencies," she said. "Those calls could range from a seemingly benign alignment to life-threatening traumas, or even death. Each day, and each call brings something new, and every time, they fully show up."
Ferrone continued by suggesting community members show their appreciation.
"As they show up for us, I invite you to show up for them too," she said. "If you see a paramedic or an EMT out in public, let them know you appreciate the work they do, treat them to a coffee, give them a big genuine smile! Let your first responders know that you really see them, acknowledging how hard and necessary their work is, and letting them know how much you may appreciate them."
Ferrone added that instead of asking EMS providers about the worst call they've ever been on, learn more about them by asking about their day.
"If you want to learn more about a paramedic or EMT's work experience, try asking them; 'What was your best day on the job?' or 'What do you wish I knew about your work?'  You'd likely learn a lot, and probably have a truly meaningful conversation."
The post continues to urge the public to learn more about EMS by understanding the ins and outs of local agencies.
"I invite you to learn more about the EMS agency that responds in your community," she said. "You might learn that you have something to offer them."
Click here to read the full post.