Why Secretary Tom Ridge advocates for EMS
Tom Ridge, the first secretary of the Dept. of Homeland Security and a sudden cardiac arrest survivor, advocates for EMS at NAEMSP 2019 Annual Meeting
---
AUSTIN, Texas — Tom Ridge, a two-term governor of Pennsylvania and the first Secretary of the U.S. Department of Homeland Security, delivered the opening keynote at the National Association of EMS Physicians annual meeting that called on EMS leaders and physicians to better tell the important story of EMS and advocate for EMS to local, state and federal officials.
Ridge's 2018 EMS Week video tribute played before he spoke. Ridge suffered a cardiac arrest during a Nov. 16, 2017 visit to Austin. Ridge speaks sincerely and candidly about his heart attack, care from Austin-Travis County EMS paramedics and survival.
"I flatlined three times on the way to the hospital," Ridge said. "Absent your presence, I would not have made it."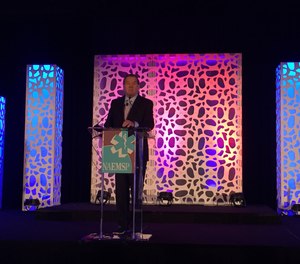 Ridge is chairman of Ridge Global. He provides clients with solutions to cybersecurity, international security and risk management issues. During his DHS tenure, Secretary Ridge worked with more than 180,000 employees from a combined 22 agencies to create an agency that facilitated the flow of people and goods; instituted layered security at air, land and seaports; developed a unified national response and recovery plan; protected critical infrastructure; integrated new technology and improved information sharing worldwide.
Ridge's career as an elected official, cabinet secretary and citizen had many intersections with EMS providers. Those experiences informed Ridge's remarks to the gathering of EMS physicians, researchers, educators and paramedics.
Memorable quotes from Tom Ridge on the importance of EMS
Here are four memorable quotes from Tom Ridge.
"EMS community has been and will always be a source of strength for the communities and neighborhoods you serve."
"Two threats keep me up at night; bio and radiological events. I continue lobbying on the political and regulatory side to get work done."
"Reimbursement (for EMS) is pretty pathetic. In this day age, you deserve more."
"There is nothing more impactful than a group of passionate people expressing their desires, needs and legitimate expectations in the realms of regulation. Those of whom you elected will support your special interests."
Top takeaways from NAEMSP 2019 opening keynote
Ridge's appreciation for EMS was interwoven throughout his presentation. Here are my top takeaways from his presentation.
1. Appreciation for EMS is nurtured
Ridge described his encounters with EMS as a soldier in Vietnam, a congressman in Pennsylvania, the Commonwealth of Pennsylvania governor, secretary of Homeland Security, and as a patient who received lifesaving care. He has also participated in panels which investigated and wrote lessons learned from the Virginia Tech University shooting and Boston Marathon bombing.
"Working in a bipartisan manner is the only way to get things done."  

- Tom Ridge, Former homeland security sect., governor, and #OHCA  survivor, and Keynote at #NAEMSP2019

Important to focus on issues, work together for the greater good! pic.twitter.com/vtvV2V2URH

— Erin Lincoln (@ErinTWL) January 10, 2019
Ridge's experiences with EMS are a reminder of how important it is for EMS leaders to form and cultivate relationships with local, state and federal policy makers and politicians. Those relationships are the foundation for maintaining and increasing EMS funding, recognizing the impact of EMS, and communicating the value EMS provides.
2. Treat strangers as loved ones
Ridge was an EMS patient; an unknown person to the EMS crew who cared for him and saved his life. Ridge had a "widow maker" STEMI and is grateful to be one of the few to survive this type of heart attack. He repeatedly re-stated how much it meant to him to be a stranger that the EMS crew treated as a loved one. "My crew never gave up on me despite my heart stopping three times," Ridge said.
"When you're in public service, the whole family puts the uniform on." Former Sec. Tom Ridge #NAEMSP2019

— Regions EMS (@RegionsEMS) January 10, 2019
3. Survivors are great EMS advocates
Ridge's message of appreciation and admiration is similar to many sudden cardiac arrest survivors. The sudden cardiac arrest survivors in your system are potential advocates for your agency. Ridge encouraged attendees to engage those survivors, like him, to advocate for EMS by sharing their positive experiences with EMS.
4. EMS must advocate for EMS
Ridge closed his presentation with a call for EMS leaders to be more involved in advocating for their needs. Ridge observed that when "when people think of first responders, they think of police and fire. They don't think of EMS."
"You are a public health, public safety component," Ridge said. "Your mission and profession are worthy of recognition and requires greater visibility at the state and federal level."
"Squeaky wheel gets the grease, be persistent as hell" -Tom Ridge in discussing how we get funding for #EMS #naemsp2019

— Jeremiah Escajeda ?? (@JerEscajeda) January 10, 2019
Ridge also called on attendees to take advantage of FirstNet. Communication problems have been a common element in all of the major incident commissions in which Ridge has served.
Q: What should states and EMS physicians do to increase support for rural EMS?

A: Advanced in telemedicine is absolutely critical, @FirstNetGov is important, as is gaining support with rural state legislators and public health officials via exposure and advocacy #NAEMSP2019

— Catherine R. Counts (@CatherineCounts) January 10, 2019
Before a question and answer period, Ridge closed with, "EMS is hard work worth doing. You do it well."
Top tweets from Tom Ridge speech to NAEMSP
"A single conversation is a good place to start, but then you have to beat the hell out of it for the next 364 days" #NAEMSP2019

— Catherine R. Counts (@CatherineCounts) January 10, 2019
Learn more and get involved
Learn more with these resources from EMS1:
Sudden cardiac arrest
EMS advocacy