Video: Fla. high school shooting survivor thanks responders
When paramedics found high school student Maddy Wilford, they thought she was dead due to the multiple gunshot wounds she had suffered
---
By EMS1 Staff
PARKLAND, Fla. — A survivor of the recent Florida high school shooting, who is considered lucky to be alive by doctors, thanked the paramedics who made a decision that may have saved her life.
WFLA reported that when paramedics found student Maddy Wilford at Marjory Stoneman Douglas High School, they first thought she was dead due to the multiple gunshot wounds she suffered to the chest, abdomen and arm.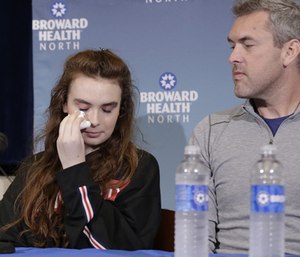 Paramedics immediately began treating her after a deputy got her to respond by shaking her, and that's when paramedics decided to transport her to a hospital 10 miles away instead of another one 30 miles away.
Doctors worked to repair the massive bleeding Wilford suffered and said she is lucky to be alive due to the severity of her injuries.
Wilford thanked first responders and doctors after being released from the hospital.
"I was sitting on my sofa today thinking about all the letters and gifts everyone has given, just all the love that has been passed around. I wouldn't be here without it. I just want to send my appreciation to all of you. Like my mom said, it is times like these that I know we need to stick together," she said.
Wilford, who also met with President Donald Trump and First Lady Melania Trump while in the hospital, is now recovering at home.
LIVE: Stoneman Douglas High School student Maddy Wilford shares her story of recovery after undergoing several surgeries to save her life: http://bit.ly/2ESJuPF

Posted by WPTV on Monday, February 26, 2018