Soccer superstar David Beckham buys hot drinks for medic and patient
Beckham treated a London bike paramedic and her patient to coffee and tea as they waited for an ambulance
---
LONDON — Paramedic Catherine Maynard was called to an elderly man who had fallen in the street when she spotted David Beckham, the former Manchester United, England and LA Galaxy midfielder.
"I was waiting with my patient for an ambulance to transfer him to hospital and although I was keeping him warm it was very cold outside," Maynard, who works for the London Ambulance Service Cycle Response Unit, said. "All of a sudden, I looked up and saw someone who looked like David Beckham walking past us. He said hello and got in his car. I said to the man I was treating, 'I think that was David Beckham.' Ten minutes later, he came back with a cup of coffee for me and a tea for the patient.
"We were both very amused, and flattered. It was awful cycling around in the cold today and I couldn't believe it when he came back with some hot drinks — I was so chuffed."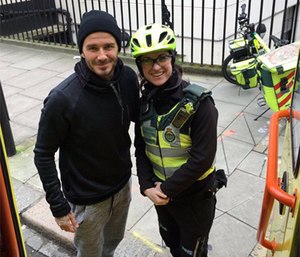 Beckham then posed for a picture with Maynard, which was tweeted from the official London Ambulance Service Twitter account.
The LAS also took to Twitter to ask others inspired by Beckham to show their support for medics with the hashtag #BuyItLikeBeckham.
Inspired by Beck's act of kindness? https://t.co/jZ1ztn6e4V offer our crews a coffee and tweet us a pic #buyitlikebeckham

— London Ambulance (@Ldn_Ambulance) February 1, 2016
A few hours later the LAS shared this photo of a cup of coffee gifted to an "Ambulance Lady."
Londoners are sharing the love: One of our @LAS_CycleTeam paramedics was given a free coffee #buyitlikebeckham pic.twitter.com/6FoKWJreJz

— London Ambulance (@Ldn_Ambulance) February 2, 2016
Paramedic Catherine Maynard
This experience was very different than this time last year for Maynard — When she and her crewmate were assaulted by two separate patients within two days.
A patient spat and swore at Maynard before assaulting her and wedging himself underneath the ambulance before police were able to arrest him.
Not even a day after the first attack, Maynard and her colleague were assaulted again on a call.
At the time Maynard said, "I'd only been assaulted once in five years and then I'm assaulted twice in one weekend. It's frustrating that we are sympathetic to so many people, and then we're treated like this."
The London Ambulance Service shared this story, adding, "Fortunately the famed free-kick taker affectionately known as 'Goldenballs' respects the Service's hard-working paramedics and even a gesture as small as buying a cup of coffee makes our crews feel appreciated."