Quick Take: EMS legal questions answered at leadership session
PWW attorney Doug Wolfberg led a full-day EMS leadership training at Wisconsin EMS Association Working Together conference
---
By Greg Friese, MS, NRP
National EMS attorney and paramedic Doug Wolfberg taught a full-day leadership institute to about 100 EMS providers from departments of all types and sizes at the WEMSA Working Together conference. The lively and often humorous session encouraged attendees to participate and wear the metaphorical "What if guy" hat for posing hypothetical legal questions to Wolfberg.
Overview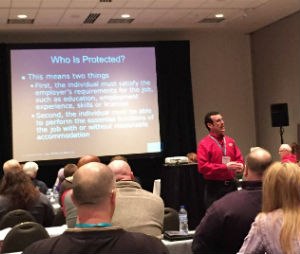 The all-day session was split into several parts. The morning program covered HIPAA, legal liability, tort law, staying out of court, and how to testify if called to a trial or deposition. The afternoon portion of the program focused on the legal side of managing EMS personnel, paid and volunteer. Attendees benefited from Wolfberg's legal expertise, advice on best practices, and walked away with an 86-page handout of the program's PowerPoint slides.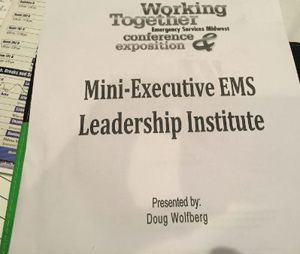 Most memorable quotes
"Termination of employment actions should be understandable, credible, and not just legal, but fair to the employee and perceived as fair to outside persons," said Wolfberg.
Overheard from a session attendee at lunch, "For a lawyer Doug is really funny and knows what he is talking about."
Takeaways: changing workplace
- New laws plus new attitudes equal an increase in workplace litigation.
- Personnel are employed at will and can be terminated for a good reason, bad reason, or no reason; unless there is a contract.
- Too many EMS organization's bylaws are written like SOPs and are filled with unnecessary and outdated information.
- Bylaws need to be written like the U.S. Constitution; simple and broad. Leave the complexities of implementation for more easily changed SOPs.
Wolfberg, to be expected, is at ease in front of an audience. His presentation is a captivating combination of history and civics lessons with legal education that will positively impact EMS leaders.