NYC philanthropic program expands to serve 5K EMS, disaster personnel
NYC Healthcare Heroes, which has been delivering food and essentials to hospital workers since April, will now begin service to first responders
---
By Laura French
NEW YORK — NYC Healthcare Heroes, a philanthropic program launched in April to distribute food and other essentials to healthcare workers, has now expanded to provide shelf-stable food, household cleaning products, personal care products and over-the-counter medicine to nearly 5,000 EMS and disaster services personnel.
Since its launch, NYC Healthcare Heroes has delivered nearly 125,000 packages to New York City hospital workers on the front lines of the COVID-19 pandemic.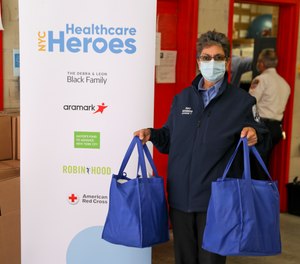 The program was started by Aramark with an initial $10 million donation by the Debra & Leon Black Family, who have committed to matching additional donations up to $10 million.
Aramark and the Black Family announced last week that deliveries will now be made to EMS and disaster services workers at all EMS stations and outposts and disaster services locations across the city. 
"The members of the FDNY have truly shown they are among New York City's Healthcare Heroes through their brave service to New Yorkers throughout this pandemic. This has been the busiest period in the history of EMS, and our men and women have shown their incredible resilience and courage every single day," said Fire Commissioner Daniel Nigro in a statement. "We sincerely thank Debra and Leon Black and Aramark for their generosity in helping provide food and supplies for our members. We also thank their partners at the American Red Cross, Robin Hood, New York City Emergency Management Department (OEM) and the Mayor's Fund to Advance New York City."
The program plans to provide at least 300,000 and up to 500,000 packages to the more than 100,000 New York City healthcare professionals across the five boroughs through mid-summer.
"We launched NYC Healthcare Heroes to help support workers on the front lines who are making countless sacrifices. EMS and disaster services workers have been working tirelessly combatting this pandemic, and we're pleased to expand the program to recognize them for their tremendous work and give them this much-needed relief," said a statement from the Black Family. 
"Our dedicated team, along with Red Cross volunteers and the New York City Emergency Management Department, are making a tremendous effort to ensure our brave heroes combatting the pandemic have the food and supplies they need. We're proud to be a part of this incredibly important program," Aramark CEO John Zillmer said in a statement.