Dear new EMT or paramedic: It's OK to ask for help
In EMS, most providers learn their most important lessons by doing; here are three lessons learned that you should never forget – no matter how long you've been in EMS
---
Finding your footing as a new EMT or paramedic can be difficult – maybe even scary.
However, the great thing about EMS – or any public safety profession – is that your partner always has your back. So, when you're feeling out of place or you're afraid to ask your partner, colleague or chief an important question … remember that it's OK to not know everything.
In fact, it's the way most of us learn.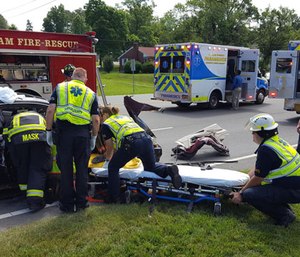 We asked our LinkedIn fans what new EMTs or paramedics need to know as they head out into the field. Here are some of their responses. And if you haven't already, be sure to leave your advice in the comment section below.
It's a sign of great strength to ask for help
John Brooks, who has been in EMS for 14 years, said it's OK to not know everything as a new EMT or paramedic.
"It's a sign of great strength to ask for help or guidance," he noted.
Chris Cebollero, an EMS1 columnist and nationally recognized EMS leader, agreed wholeheartedly with Brooks, saying "it's OK to ask why. You do not know everything."
And while you've probably heard that there are no dumb questions, you've also probably thought at least once – or twice – that you better not ask one. In spite of this, Dennis Swanton, a member of a healthcare marketing team, reminded us that there are no dumb questions.
"I further concur that there is no such thing as a 'dumb question,'" Dale McGlaughlin, who has over 30 years of experience in fire, EMS and police, said. "However, the only 'dumb question' is the question that isn't asked."
Never let your training go to your head
McGlaughlin further advised new EMTs or paramedics that what they learn in class is just their "base."
"Their 'real' education starts when they walk into the station for the first time," he said. "It's our job as older providers to show the newer folks the rights and wrongs as they come up through the ranks."
Allan Davis, who has been a paramedic for the last 20-plus years, agreed with McGlaughlin, noting that new providers need to remember to do the basics first.
"Never let your training go to your head," he said.
Rebecca Haro, a health and wellness coordinator for a fire and medical district, said she teaches her EMT students to "treat every patient as if they were your family member. Give them the level and quality of care you would want your family to receive," she said.
Take care of yourself
Mental health in EMS is becoming less of a taboo topic. As more and more professionals witness the first-hand effects of sweeping mental health issues under the rug, the more it's beginning to be talked about more openly.
Steve Cripe, a consultant and researcher for physicians, nurses and other healthcare providers, stated that there should be lessons given on how to take care of yourself as an EMS provider.
"I know there was no discussion of such things years ago, and even today we all think we're invincible, especially starting out. We all have that 'macho' attitude. But, believe me, there will be times when you need to talk, be debriefed, cry, scream, whatever."
Cripe further advised that there's no shame in saying, "I need to talk."
"Take care of yourselves, folks. You're no good to your patients or yourself if you're impaired," he cautioned.
Jim Babylon, a hazardous materials technician, said he spends a "good deal of time now training new EMTs and paramedics in doing that very thing."
"I'm tired of losing friends to suicide, alcohol and drugs," he said. "I try to teach the new EMTs and paramedics how important it is for them to process the traumas that we experience vicariously, and how important it is to find a way to deal with your demons."
As a new provider, Jon LeRoy, an employee recognition and social media coordinator for an ambulance service, hammered home the point that it's important to remember you're not a robot – you're a human being.
"I remember sitting in debrief with a colleague after a tragic accident and my colleague being chastised by other responders for being 'too emotional' over the situation," he recalled. "Stop trying to be anything other than a human being doing an incredibly emotional job."
As a new EMT or paramedic, what advice do you wish you were given before going into the field? And what advice would you now give up-and-coming rookies? Let us know in the comments below.