5 things to know about assemblyman and EMT Freddie Rodriguez
Proposals and bills may not always directly influence EMS, but it's essential to know the person behind the ballot
---
California Assemblyman Freddie Rodriguez introduced the EMS Workers Bill of Rights earlier this month, which includes the rights to rest and meal breaks, protections against on-duty assault and access to mental health care.
Since the proposal of the bill, EMS1 columnist, former paramedic and lawyer David Givot went a step further than Rodriguez's proposition. He applauded the first step taken in this important legislation, and recommended that California's private EMS providers should have the same legal protections as their fire department counterparts.
Rodriguez said as a former EMT, he was "obligated and proud to stand up and speak out for thousands of hardworking individuals who are integral to our health care system."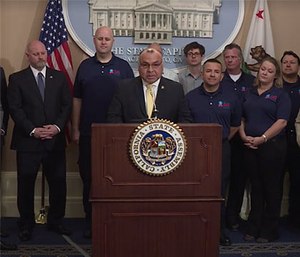 As EMS providers, it's important to know about your state's politicians. Proposals and bills may not always directly influence EMS, but it's essential to know the person behind the ballot when they do. Here are five facts about assemblyman and former EMT Freddie Rodriguez.
1. Rodriguez worked as an EMT for over 30 years
Before being elected as a member of the California State Assembly, Rodriguez was a Pomona City councilmember and an EMT in the San Gabriel Valley. Currently, Rodriguez works part-time as an EMT with AMR in Irwindale. He represents the 52nd Assembly District, which includes the cities of Chino, Montclair, Ontario, Pomona and portions of unincorporated Fontana.
2. EMS Awards
In 2005, Rodriguez helped the victims of hurricanes Katrina and Rita. He was awarded the California Star of Life for his volunteer contributions and rescues.
3. Helping firefighters, too
When Rodriguez was a councilmember, he helped restore firefighting positions in Pomona. He made sure that shifts were fully staffed and crews were properly equipped to respond to calls.
4. Public safety supporter
When elected to the State Assembly in 2013, Rodriguez made it clear that he was an advocate for public safety. He helped develop SOPs in order for emergency responders to better respond to active shooter incidents. He also introduced AB 1719, which requires districts to teach hands-only CPR in high school.
Additionally, Gov. Jerry Brown signed into law Rodriguez's AB 69, which established practices and procedures for downloading and storing police body camera footage.
5. Public service runs in the family
Rodriguez and his wife live in Pomona. They have four children — one of whom continued in his father's public safety footsteps. Their son, Vincent, currently serves as deputy sheriff for the Los Angeles County Sheriff's Department.