3 ingredients to survive an EMS career
Getting into EMS isn't all that difficult; staying is where the challenge is
---
By Sean Eddy
When I started out in EMS, I had no trouble finding tips or advice on things like taking the national registry exam, getting through school, passing my internship and even finding a new job.
It seemed like there was no shortage of people willing to help us rookies get started in our exciting career. Fast-forward several years and I was broke, severely in debt, in terrible shape, depressed, going through divorce and ready to find something .. .anything that wasn't EMS. I was convinced that there was simply no way that I could continue working in this field. My internal conflict was that I still had a passion for the job, it was just buried deep beneath all of my personal troubles. I really wanted to stay, I just didn't think it was going to be possible. I looked for the same help that I had when I started, but everyone fell silent when I wanted to know how I could survive this career. The best advice I could get was to either join the fire service or go to nursing school, and both solutions were based solely on a bigger paycheck.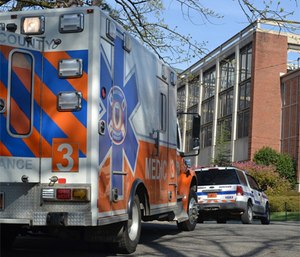 Getting into EMS isn't all that difficult. Staying is where the challenge is. Fast forward to today and I'm debt-free, in the best shape of my life, I have a positive view on life and I LOVE my job. In fact, I love my job so much that I can't see myself doing anything else. I went from nearly leaving my career, to loving it more than ever before. I did this by working diligently toward achieving what I call the three ingredients for surviving a career in EMS: a healthy mind, healthy body and healthy wallet.
1) Healthy Mind
It's extremely difficult to take care of others when you need help. Being satisfied with where you are in life (and where you're going) is absolutely essential to survival in this field. Life balance, counseling, regular prayer and not allowing your job to be your only identity are great things to focus on.
2) Healthy Body
3) Healthy Wallet
Learning to live on a strict budget didn't restrict me; it set me free. It put me in control. When I took complete control of my money and started living on far less than I made, my paychecks didn't seem so small. That's when I knew that I COULD stick it out in this career. That's when I decided that doing a job that I love was more important than making more money. That's when I started doing EMS because I wanted to, not because I had to. And THAT, my friends, is how you survive a career in EMS.