Rapid response: MCI readiness, blast injury treatment takeaways after Manchester
Emergency responder effectiveness after this terrorist MCI will likely be judged – fairly or not – based on solving the crime, caring for the injured and quickly reuniting families
---
What happened: A suicide bomber killed at least 22 people, including children, and injured 59 others by detonating an explosive device, reportedly packed with shrapnel. The terrorist who targeted fans at an Ariana Grande concert in Manchester, England was also killed by the explosion.
The ambulance service transported 59 people to local hospitals and hundreds of police officers are investigating. In the hours after the Monday night explosion, parents frantically searched for children they were waiting to pick up or got separated from in the chaos after the explosion.
Why it's significant: A single suicide bomber timed and placed his cowardly act to have maximum impact. As a mass gathering event ends, attendees are densely congregated near exits. After the blast, there is a potential for additional victims as panicked attendees surge toward exits and flee the explosion.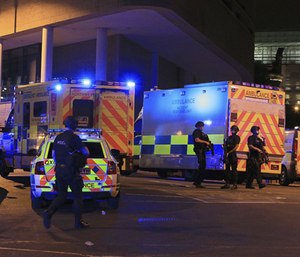 Investigators will quickly determine if the Manchester suicide bomber was working alone or with the support of a terrorist organization, but those facts will have little impact on reducing the potential threat at every mass gathering venue. Every day, cities around the world host music and sporting events in venues just like Monday night's pop music concert. The attendee and employee screening and observation challenge for law enforcement, event security and other emergency responders is significant.
Top takeaways: In the wake of the Manchester bombing, and much like you might have done after the mass shooting in the Fort Lauderdale Hollywood airport or the coordinated terrorist attacks in Paris, it's likely you are doing your own threat assessment of the mass gathering venues in your area.
What are the upcoming concerts, sporting events, festivals and rallies?
How has your EMS agency partnered with law enforcement to pre-plan and practice MCI response?
What do you know about assessing and treating blast injuries?
With these questions in mind, here are my top early takeaways.
1. Review blast injury assessment, treatment
There are four types of blast injuries – primary, secondary, tertiary and quaternary. The type and severity of injury depends on the patient's proximity to the blast, the type of explosive, use of shrapnel and space in which the detonation occurred. The CDC partnered with the American College of Emergency Physicians to develop "Bombings: Injury Patterns and Care curriculum" which includes training materials and fact sheets, like these essential facts. Review these materials on your own or during your next company roll call or station shift briefing.
2. Anticipate secondary devices, shooters
Only one explosive device detonated Monday night, but there may have been other explosives that didn't detonate or co-conspirators who assisted in planning or failed to carry out their portion of the attack. Despite the preponderance of recent lone wolf – single person – attackers in New York City, London, Orlando, Columbus, Ohio and Dallas – the potential for secondary devices or shooters is significant and should not be overlooked in the immediate response phase of future incidents.
3. EMS gets the most severe patients
The injury severity of the patients transported by ambulance has not been reported. Undoubtedly, some patients self-transported on foot or in public transport, including buses, taxis and ride-share vehicles like Uber. I don't know if any patients were transported in Manchester police vehicles, but in recent U.S. incidents police have transported patients out of the hot zone and directly to the hospital.
When the walking wounded self-transport and police scoop up the patients rushing toward them it likely means the patients remaining for EMS are the most severely injured. Or, even worse, the only job left for paramedics rushing to the scene is death confirmation of the people left behind.
4. Patient tracking
Manchester is yet another reminder of the desperation that ensues when parents are separated from their children. Much of the early news reporting is about parents searching for their kids, the statements of relief and guilt from parents whose kids survived and social media hashtags desperately asking for help.
EMS needs to anticipate, plan for and practice patient tracking to ensure procedures are in place for this critical aspect of MCI response. In the weeks and months ahead, the effectiveness of emergency responders will likely be judged – fairly or not – based on solving the crime, caring for the injured and reuniting families.
5. Mass gathering MCI readiness
Don't end your preparations for suicide bomber, mass shooter and hybrid targeted violent attacks with an informal threat analysis as you drive through your service area today. Ask your managers how your agency is involved in risk and threat analysis at nearby mass gathering locations. Join committees and task forces that conduct local threat analyses and deliver training programs to other emergency responders. Learn and review the assessment and treatment procedures for the range of clinical problems – environmental, traumatic and medical – you may encounter at a mass gathering MCI.
What's next: We will learn more about the heroic actions of concert goers, other lay persons, paramedics and hospital personnel to save lives. Many of them will wish they could have done more as they humbly accept well-deserved accolades.
Learn more about MCI preparedness and response
Here are some other articles from EMS1 on mass gathering readiness, mass casualty incidents and terrorist attacks.