NJ medics to call specially trained physicians for pediatric patients
MONOC partners with pediatric emergency physicians for consultations with paramedics on all pediatric patients that require advanced care
---
WALL, N.J. — MONOC, the EMS provider for over 2.8 million New Jersey residents living in more than 1,800 square miles now uses specially trained pediatric emergency medicine physicians for prehospital medical consultation to paramedics caring for children under 13 years old.  
Paramedics, who are required by regulation in New Jersey to speak with medical control on every ALS patient contact, will speak to the pediatric emergency medicine physicians at Newark Beth Israel Medical Center via phone.
"For children under 13, the paramedics will be calling a different medical control number to speak with a pediatric emergency medicine physician instead of a general emergency medicine physician," said Scott Matin, MONOC Vice-President of Clinical, Education, and Business Services.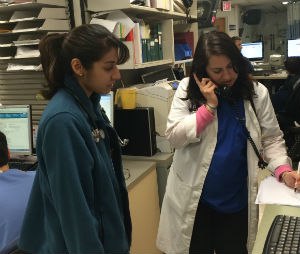 Specialized consultation is intended to result in more appropriate and detailed treatment for pediatric patients with the goal to improve patient care. Pediatric emergency physicians receive training first in general pediatrics and then proceed on to do additional fellowship training in pediatric emergency medicine. Additionally, these physicians received training in prehospital care so they can better understand the roles of paramedics and EMTs, and how to care for children before they come to the hospital.  
"We know that children do better when being cared for by pediatric emergency medicine physicians in an emergency department," said Dr. Mark A. Merlin, MONOC System Medical Director and Chief Medical Officer. "So it only makes sense that the next logical step in providing even better pre-hospital care is to utilize these same specialty physicians while the child is still out in the field."