How to use online tech to keep EMS training current and accurate
The abundance of online tools and training information requires the careful evaluation of what is and isn't helpful
---
By EMS1 Staff
Today, social networks are increasingly used to distribute training programs created by department training officers, motivate other professionals to learn, and crowdsource training best practices.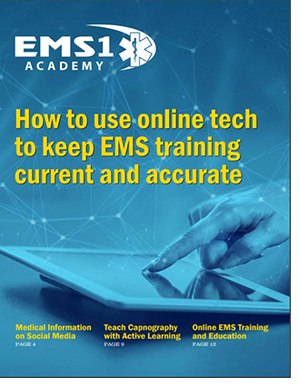 In this eBook, we explore how to find and evaluate free medical information on social media. We also share two examples of how educators are incorporating social technology into their EMS training programs. 
Adoption of online training techniques is part of how the EMS profession continues to evolve. It's no longer acceptable for a long-time EMT to say, "I don't do the computer," but we also have an obligation to provide content that is compelling and relevant. Eduation needs to be excellent regardless of how it is delivered. 
In this free guide, you will learn: 
How to find evaluate medical information on social media
How to teach capnograpy with active learning
Tips for successful online anatomy and physiology instruction
How to use group messaging applications for training