Olympics bet on company's portable isolation units in event of catastrophe
The vacuum-sealed units allow rescuers to safely help victims of chemical and biological attacks
---
By Becky Yerak
Chicago Tribune
ROMEOVILLE, Ill. — Go on a sales call with Peter Jenkner, and you're likely to hear about mustard gas, Ebola and H1N1.
He's president of Romeoville-based Isovac Products, maker of a portable "isolation unit" designed to protect emergency medical personnel and first responders from contamination by patients who might have contracted an infectious disease or been exposed to chemical or biological weapons.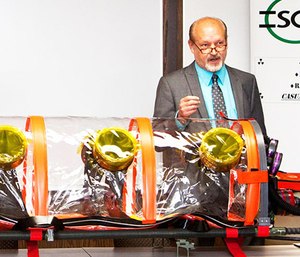 Some 8,500 miles away from its Romeoville headquarters, Isovac's gear is already on the front line of helping to keep the upcoming Olympics safe, should Rio de Janeiro become a hot zone. Isovac has sold about 150 of the locally manufactured units to the Brazilian government in preparation for hosting the Games, whose opening ceremony is Friday.
On a recent day, accompanied by a Tribune reporter, Jenkner was in Wheaton demonstrating the device, which resembles an enclosed stretcher, to the DuPage County Office of Homeland Security and Emergency Management.
He asked DuPage County planning coordinator Joseph Rogers to stand up and use his pen to poke a hole in the enclosure's clear, flexible plastic. Rogers tried, to no avail.
Besides the proprietary puncture-tested plastic, Isovac's product sports the same zippers developed for NASA spacesuits to ensure that no airborne or liquid pathogens leak through. The isolation unit, called CAPSULS, also has eight ambidextrous gloves built into the barrier so medical personnel on either side can tend to patients and not get exposed to stuff that's hazardous or just plain nasty. CAPSULS is short for Containment and Protection System Utilizing Life Support.
The chief organizer of the Rio Olympics said in June that security was his top concern and that keeping athletes and visitors safe from terrorism and other crime is the top priority. Rio's ability to safely host the Games, the first held in South America, has been questioned
Isovac's Jenkner said the deal with Brazil came together about two years ago at an annual gathering of responders to chemical, biological and other hazmat incidents.
About 90 percent of Isovac's sales are international, and the company has sold its products in about two dozen countries, Jenkner said.
The units already are in place in settings like the Mayo Clinic, for use in cases of "potential high-consequence infectious diseases," said spokeswoman Kelly Reller. The United Nations World Food Program and the state of Virginia's emergency preparedness teams have also bought units, Isovac said. Brazilian government officials could not be reached for comment.
Housed in an industrial park in Romeoville, Isovac's 15 to 20 workers make the isolation units in a 6,000-square-foot facility. Why Will County? "Price, county, taxes," Jenkner said.
The unit is designed with features for patients not thrilled about being confined. Airflow is provided through a battery-powered purifying respirator near the person's head, and the transparent material lessens that claustrophobic feeling. It accommodates a person up to 6-foot-8.
The decibel difference between being inside and outside the patient isolation unit is less than two. That means the patient can clearly hear the emergency personnel who are administering care.
When in 2014 a man in Dallas was found to have Ebola and was transported to a hospital, the ambulance had to be pulled from service. Isovac's product could have helped to break that chain of contamination, Jenkner said.
That potential benefit resonated with Jeremy Hirst, deputy director of DuPage County Office of Homeland Security. "What we're really looking at with this product here is the affected patient traveling to a hospital," said Hirst, who planned to show the unit to hospital emergency personnel.
It's recommended that the isolation unit, which sells for $14,000, be used only once, even if it turns out that the person wasn't infected.
Isovac, whose name is derived from "isolation from vacuum," is private and closely held, and Jenkner declined to disclose the company's annual sales or production volume, though he said that "hundreds" of patient isolation units have been sold.
Some of the unit's testing was done at U.S. Army facilities, Jenkner said. "To find somebody to perform chemical warfare testing in the country — you don't go through the Yellow Pages," he said.
Literature about the product says it "incorporates technology developed by Alion Science & Technology Corp."
In 2003, according to a Securities and Exchange Commission filing, Alion sued Isovac, which was founded in 1999. Alion's complaint, filed in Cook County Circuit Court, alleged that a business that Alion acquired had an Army contract to develop an "emergency personal isolation" pod to enable rescuers to help victims of chemical or biological attacks. The team that developed that device included some of Isovac's owners. Alion's complaint alleged that Isovac then began competing with it using trade secrets. A patent duel ensued.
The case was settled in 2004, with Isovac agreeing to pay Alion a royalty on sales and to mention that the product incorporates Alion intellectual property, the SEC filing said. Jenkner wasn't named as a defendant. He said he was a consultant to Isovac from 1999 to 2005, became an investor in 2005 and shortly thereafter was named president. Isovac said the patent that was part of the settlement agreement has expired and that the settlement is no longer in force. Alion could not be reached for comment.
Isovac's unit operates similarly to established aircraft transport isolators, but technological advances, such as those in materials technology and battery chemistry, have made Isovac's CAPSULS lighter and easier to use, according to a 2006 filing with the Food and Drug Administration. Isovac's patient isolation unit is registered as a Class II medical device with the FDA, according to the agency's website. Class II devices are those considered to pose moderate risks; other Class II examples, according to the FDA, include male condoms and blood pressure monitors. A manual toothbrush is considered Class I.
Isovac also has big-ticket insurance. "We have extremely large product liability insurance on this," William Finn, a former banker and an investor in Isovac's small ownership group since 2010, told DuPage officials. "It took us a while to get coverage, as you can imagine if you've got Ebola in a bag."
Copyright 2016 the Chicago Tribune