New Fla. law allows injured police K-9 dogs ambulance rides to clinics
The bill stipulates that dogs can be transported by ambulance as long as no person requires medical attention
---
Skyler Swisher
South Florida Sun-Sentinel
Police dogs injured in the line of duty will soon be able to be taken by ambulance to emergency veterinarian clinics.
Gov. Ron DeSantis signed a bill Friday aimed at protecting K-9 dogs that work alongside law enforcement.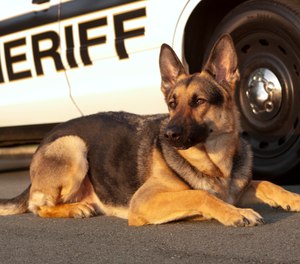 "It will end up potentially saving the lives of some of our K-9s," DeSantis said at a news conference in St. Augustine.
The bill stipulates that dogs can be transported by ambulance as long as no person requires medical attention. It also authorizes paramedics to render aid.
State Sen. Tom Wright, who served two years as a volunteer K-9 officer, led efforts to pass the bill in the Legislature.
"I know how much ... these dogs mean to these officers," the New Smyrna Beach Republican said. "They are part of their family, and we need to take care of them."
The new law takes effect July 1.
In 2019, DeSantis signed legislation that increased the penalty for seriously hurting or killing a police dog, making it a second-degree felony punishable by up to 15 years in prison.
©2021 South Florida Sun-Sentinel
McClatchy-Tribune News Service