Race to EMS 3.0 expands opportunities for EMS
As EMS will always be the ultimate health care safety net, there are new and expanding opportunities as health care and EMS enter version 3.0
---

Upon hearing the term "3.0", many people think of software release versions with the general understanding that 3.0 is newer and better than 2.0, and that likely there will be a 4.0 even newer and better version at some point in the future.
The current version of America's health care system has been described by many policy think tanks and economists as entering "Healthcare 3.0" [1,2]. Concurrent with this third major shift in health care, it is logical, perhaps even essential, that EMS is transforming into its third major revision, EMS 3.0.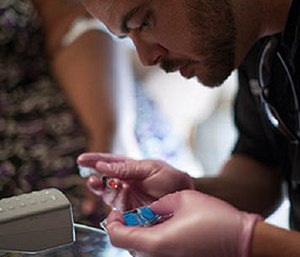 But what exactly is EMS 3.0? 
EMS has, and always will be, the community's ultimate health care safety net. When all else fails, pressing three digits on a phone brings medical help to the caller. EMS will also always have a role transporting medically fragile patients from one facility to another. 
However, the advent of Healthcare 3.0 is creating new opportunities for EMS, roles that meet three main goals:
Improve the patient's experience of care.
Improve the health of the population.
Reduce health care costs. 
These goals are often referred to as the Triple Aim developed by the Institute for Healthcare Improvement. Services provided as part of EMS 3.0 are designed to effectively navigate patients needing urgent or unscheduled care through the health care system to ensure they receive the right care, in the right place, at the right time. EMS 3.0 agencies fill gaps in patient care, preventing new or recurrent medical episodes to reduce ambulance transports, emergency department visits, hospital admissions and readmissions.
The effectiveness of the programs is rooted in collaboration. EMS 3.0 agencies help break down siloes in health care delivery models by coordinating and collaborating with a variety of community health care providers and agencies to deliver a broad spectrum of patient-centered preventive, primary, specialty and rehabilitative care outside of medical facilities. 
The five expanded roles most commonly being undertaken by EMS systems operating in the 3.0 environment include the following:
1. Nurse triage
This typically involves the use of specially trained nurses as part of the 911 call taking process for low to no acuity 911 calls. Nurses use their training, along with decision support tools to help callers find more appropriate outcomes for their call as opposed to an ambulance to an emergency department. 
For example, a mom calling 911 for a child with an ear ache and fever could get an appointment with a pediatric clinic, or even self-care at-home instructions with a follow-up pediatrician appointment the next morning. EMS systems such as MedStar, Mesa Fire and Medical, REMSA, Salt Lake City Fire and King County, Washington are using 911 Nurse Triage. 
Some agencies are using nurses in their communications center to both receive calls and make outbound calls to follow-up on high risk patients. The nurses and help assure patients are safe at home, have and keep medical appointments or answer any questions patients may have. Northwell Health Center for EMS in Syosset, New York is doing that type of program.
2. Post discharge follow-up care
EMS personnel are being used in a growing number of communities to follow-up with patients and ensure a safe transition from the hospital to the home. Crews complete one or two post discharge visits for things like in-home safety and fall risk assessments, medication inventories and a review of all discharge instructions while the patient is at home, and in a way that the patient may be better able to comprehend the instructions. 
EMS agencies such as Procare Integrated Health and Transport in Baltimore, MedEx Ambulance in Chicago and Albuquerque Ambulance are operating these types of programs. Taking that concept a step further, a growing number of agencies are enrolling patients in 30-day post discharge readmission prevention programs, conducting a series of follow-up visits and even 911 intervention and redirection if the patient calls 911. MedStar Mobile Healthcare, REMSA, Mesa Fire and Medical and several other agencies are doing these types of interventions.
3. Chronic disease management and support
Some patients need assistance managing chronic diseases or behavioral health issues. Because EMS is available 24/7/365, numerous EMS systems have formal partnerships with hospitals, home health agencies, hospice agencies and payers to help these patients during a longer enrollment.
Specially trained paramedics make routine home visits and are available for any episodic needs these patients may have. The goals of these programs are to help the patient use their patient centered medical homes more effectively and prevent unnecessary 911, emergency department and inpatient hospital use. REMSA, Northwell, Mesa Fire and Medical, McKinney (TX) Fire Department and San Diego Fire are examples of operating programs for this intervention.
4. Ambulance transport alternatives
A few EMS systems are operating under protocols that train paramedics to do enhanced assessments in the field on 911 patients and allows these paramedics to offer low-acuity patients the option of being transported to destinations other than emergency departments. These programs are in operation at REMSA and three sites in California as part of the California Community Paramedic Pilot Projects (Carlsbad Fire, San Diego Fire, and Glendale Fire).
5. Payment alternatives
Since 1965, EMS has been paid based on a transport model, we are suppliers of transportation, and as such, are typically only paid to transport patients requiring medically necessary ambulance transport. Some 3.0 payers are realizing that if they keep paying EMS only to transport, then generally, that is what we are going to do. 
Payers in Fort Worth, Missouri and Reno are getting ready to test economic models for EMS that decouple the payment from transport. These models could be a payment for the response, regardless of transport or not, payment for transport to alternative destinations or even population-based capitated per member per month rates that incentivize the EMS agency to not even have to respond to calls.
As you can see, the EMS 3.0 transformation is already out of the gate with many agencies capitalizing on the changing health care dynamics test alternate service delivery and economic models. 
References
1. Healthcare 3.0: Healthcare for the new normal