Senate Minority Leader Mitch McConnell transported, hospitalized after fall
Vito Maggiolo, a spokesman for DCFEMS, confirmed that an adult male was transported from the Waldorf Astoria
---
By Jessica Schladebeck
New York Daily News
WASHINGTON — Senate Minority Leader Mitch McConnell was hospitalized Wednesday night after taking a tumble inside a Washington D.C. hotel, according to a spokesperson.
"This evening, Leader McConnell tripped at a local hotel during a private dinner," David Pop, a spokesperson for the Republican senator, told NBC News. "He has been admitted to the hospital where he is receiving treatment."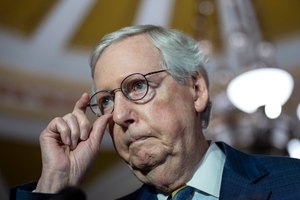 The fall occurred inside the Waldorf Astoria around 9 p.m. Few other details were provided.
Vito Maggiolo, a spokesman for the D.C. Fire and Emergency Medical Services Department, said an "adult male" was transported from the swanky hotel around 9:17 p.m. He confirmed first responders were called to the scene for a fall but would not say whether it was McConnell, citing privacy matters.
"Notes did not indicate patient condition," he told NBC.
McConnell, 81, is currently in the midst of his seventh term in the Senate, where he served as majority leader from 2015 until Democrats reclaimed the majority in late 2020.
The Kentucky Republican was first elected in 1984, making him the Senate's longest-serving GOP leader. He previously suffered a fall back in 2019, which also required hospitalization.
McConnell sustained a shoulder fracture after he tripped in his Kentucky home. He underwent surgery to address the injury.
Several other politicians have also been hospitalized in recent weeks, among them, Democratic Sens. John Fetterman of Pennsylvania and Dianne Feinstein of California
Fetterman was seeking treatment for depression at the time while Feinstein, who is now recovering at home, was suffering from shingles.
©2023 New York Daily News.
Visit at nydailynews.com.
Distributed by Tribune Content Agency, LLC.
McClatchy-Tribune News Service