Mass. ambulance service trains youth cadets in lifesaving techniques
The Armstrong Ambulance Service taught cadets hands-only CPR and Stop the Bleed techniques to ready them for the field
---
By EMS1 Staff 
ARLINGTON, Mass. — The Armstrong Ambulance Service joined the Boston College Youth Police Academy to teach cadets hands-only CPR and Stop the Bleed techniques.
According to a press release, 18 cadets were trained in life-saving skills and now can apply the knowledge in an emergency situation. Among the cadets were the inaugural academy class of BC Police Department.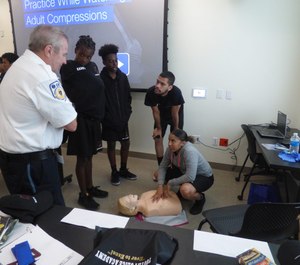 Training coordinators broke the cadets into teams to teach hands-on instructions on resuscitation and blood loss prevention.
"These skills are critical ones that could benefit anyone at any time," Armstrong CEO Rich Raymond said. "We're proud to support Boston College's inaugural youth academy and share these lifesaving techniques with young cadets so that they can be prepared to act in any number of scenarios where every second counts."