Clinical scenario: Resuscitation at a nursing home
You arrive on scene to find staff performing CPR; what are your priorities during this resuscitation?
---
Post your assessment in the comment section below, and the person with the best answer will receive one of our exclusive EMS1 Challenge Coins!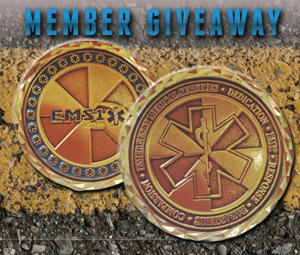 At 0700 hours just after completing shift change, you are dispatched to a skilled nursing facility in a rural part of your district for a report of a 75-year-old resident with shortness of breath.
The update you receive while en route indicates that the patient has a low pulse oximetry reading. You arrive on scene and are advised by dispatch that the ALS ambulance is approximately 15 minutes away. 
You are buzzed in the front door by a staff member and led through the common area to the patient's room. When you walk through the door you find staff performing CPR on a patient lying in bed. The patient has an OPA in place and is being ventilated with a BVM hooked up to high-flow O2. A staff member arrives behind you with the facility's AED. 
As your crew takes over compressions and ventilations, the staff member hooks up the AED. The unit analyzes and does not advise a shock. With CPR continuing, you begin to ask staff about the patient. 
She has a history of CHF and diabetes and was admitted to the skilled nursing facility two weeks ago for rehabilitation following a stroke. Her therapy has been going well. At 0645 today, she rang her call button and reported to staff that she was feeling like she could not catch her breath.
While your crew continues CPR, ask yourself:
What are your priorities during this resuscitation and why?
What are some potential causes of the patient's cardiac arrest?
Are any of those causes correctable during the resuscitation?