3 EMS agencies submit videos for NAEMSP CPR challenge
The winner of the challenge gets two free NAEMSP Annual Meeting registration passes
---
By EMS1 Staff
OVERLAND PARK, Kan. — Three EMS agencies from Missouri, New York, and Los Angeles have submitted videos to the NAEMSP CPR Challenge, which aims to educate the public on best practices when performing CPR.
The three agencies – the Missouri EMS for Children, Gates Volunteer Ambulance Service, Inc. and the Los Angeles County Fire Department – have created educational music videos that match or come close to matching the ideal rate of 110 bpm to conduct chest compressions.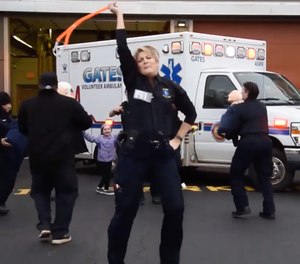 "We are very impressed by these videos," NAEMSP President David K. Tan said. "Not only are they fun and entertaining, but more importantly they show what to do if you see someone going into cardiac arrest. A bystander stepping in and performing CPR in that situation could potentially help save a life."
The NAEMSP Board of Directors will judge the videos and the winner of the challenge will receive two free NAEMSP Annual Meeting registration passes for the convention in San Diego, California, on Jan. 6–11, 2020. The deadline to be considered for the prizes is June 15, but NAEMSP officials are encouraging agencies to continue submitting video entries through the 2020 Annual Meeting.
Check out their videos: