Transparency concerns raised as Philadelphia declines to report first responder virus numbers
City officials said they seek to protect employees' privacy, but a union official said employees also want to know how many department members are affected
---
Sean Collins Walsh
The Philadelphia Inquirer
PHILADELPHIA — As the number of Philadelphia first responders testing positive for the coronavirus grows, Mayor Jim Kenney's administration is facing pressure to be more transparent about how many city workers have contracted the disease.
New York, Los Angeles, Chicago, San Francisco, Seattle, Boston, and Washington have all released, at a minimum, the number of police officers or first responders who have tested positive.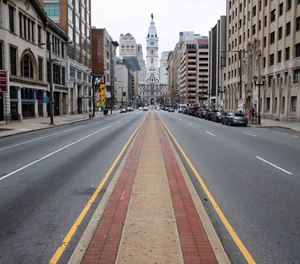 But Managing Director Brian Abernathy said he is withholding the Philadelphia totals out of concern for the workers' privacy.
"Even in these challenging times, people — public servants included — have rights to privacy and confidentiality," Abernathy said last week during a virtual news conference. "If we reported the number of police officers with this infection, you'd want to know what unit they were in. If we reported the number of firefighters with this infection, you'd want to know what station house. You'd want their ages."
Abernathy's position hasn't stopped word from getting out. City employees regularly reach out to journalists about coronavirus cases in their workplaces, often to raise concerns about working conditions, such as a lack of personal protective equipment or decisions on which employees are essential.
"It's not a matter of privacy, because the employees themselves want people to know: This is what happened to me, this is the environment that I had to go into, and this is the same environment that I had to take home — and I don't know what I'm taking home," said Eric Hill, business agent for AFSCME Local 159, which represents corrections officers in city jails. "The number means a lot.... We need to know how many of our members are being affected."
As of Tuesday, 81 firefighters and paramedics had tested positive for the coronavirus, according to department sources. And 129 police officers have the virus, sources in that department said. In both cases, the sources requested anonymity because they were not authorized to release the numbers.
Because administration officials won't confirm those reports, information about cases has come out in piecemeal fashion and can quickly become dated without official updates.
Abernathy said the city would alert the public if it has to take extraordinary measures to ensure public safety because a large-enough share of the city's 6,500 police officers and 3,000 firefighters cannot go to work, either because they are sick or because they are quarantining. That hasn't happened yet, he said.
"When someone tests positive, they are taken off shift. We trace their contacts, and we notify those contacts about the infection," Abernathy said. "There is no risk to public safety, and there's no benefit to telling you whether there are 10 police officers or 50 as long as we are able to maintain our deployment levels."
John McNesby, president of Fraternal Order of Police Lodge 5, said he didn't understand why the city is being "tight-lipped" about the totals.
The Boston Police Department releases the number of officers and nonuniformed staff who have tested positive but does not disclose the parts of the city in which they work or the number who are in quarantine but haven't tested positive, said Sgt. Detective John Boyle, a department spokesperson. No officers have had their privacy compromised, he said.
"It's simply a statistic. There's no way of knowing who the person is," Boyle said.
Washington has published daily reports disclosing how many officers have tested positive since the pandemic reached the capital, Metropolitan Police Department spokesperson Kristen Metzger said.
"Being that police department officers are out there every day interacting with the community, it's definitely a way for us to build upon that trust and let the public know the precautions that we're taking as an agency in order to protect them and also maintain a level of public safety for the community," Metzger said. "We haven't had any issues."
City Councilmember Cindy Bass said disclosing the number of municipal workers who have coronavirus would help to drive home the gravity of the pandemic. People have been more cooperative with social distancing rules, she said, when they have understood the extent of the problem.
"That just lets people know how dangerous it is, how serious it is — and the people have responded," Bass said. "Right now, because of everything that's happening, people are in fear, people are concerned, and we need to take transparency to a level that we've never seen before."
Staff writers Chris Palmer and Mike Newall contributed to this article.
———
©2020 The Philadelphia Inquirer
McClatchy-Tribune News Service