Tiered vaccine plan laid out in Idaho; healthcare workers on 1st tier, FFs and LEOs on 2nd
An advisory group formed by the state said it will consider local input before announcing the finalized distribution plans
---
By Joel Mills,
Lewiston Tribune, Idaho
BOISE, Idaho — Idaho's top epidemiologist laid out a tiered plan Wednesday for the eventual distribution of a COVID-19 vaccine that will focus on health care workers and first responders before it becomes available to the general public.
Speaking remotely to Wednesday's State of the Valley luncheon organized by the Lewis Clark Valley Chamber of Commerce, Dr. Christine Hahn said planning for the vaccine has quickly become a bigger and bigger part of the state's coronavirus task force.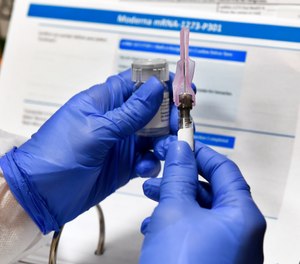 "We don't have a vaccine yet, so all the planning that's going on and that we're submitting to the (Centers for Disease Control and Prevention) is talking about if and when we do have a vaccine, here's how we will work with local partners to distribute it and to educate providers, patients and the community about the vaccine," Hahn said. "And we're going to have to keep modifying this as more is learned."
Idaho Gov. Brad Little announced the formation of a vaccine advisory group earlier this month. Hahn said the group is currently focused on getting a vaccine to health care workers first because they play a critical role in the functioning of communities. Plus, they are at a higher risk to contract COVID-19 because of their frequent proximity to infected patients.
Next in line would be other essential workers like law enforcement, firefighters and teachers, Hahn said. A final phase of distribution would focus on senior citizens because of their higher risk of complications from infection, and then the rest of the population.
The priorities aren't set in stone, however, and Hahn said the advisory group has broad representation that will ensure there is local input into the final plan.
"This group will help advise us on this exact question of who should be offered the vaccine first, and how do we make sure it's fair," she said.
One thing that won't be an obstacle to vaccine distribution is cost. Hahn pledged that the vaccine will be free, with the federal government picking up the tab. She also said the health care providers, doctors, pharmacists and other providers who will administer the vaccine can bill insurance for the costs they incur. Finally, Hahn said there will be a state program that will pay for any patient deductibles and copays they are charged.
"So the idea is that nobody should be turned away because they can't pay for the vaccine," she said.
Hahn also said the COVID-19 testing landscape is changing rapidly, with faster tests becoming more widely available. For example, two types of antigen tests have been deployed to long-term care facilities statewide.
Other speakers at the luncheon included Public Health -- Idaho North Central District Director Carol Moehrle, who gave a tutorial on how to use the health district's interactive COVID-19 information website; interim Nez Perce County- City of Lewiston Emergency Management Director Bill Reynolds; Asotin County Director of Emergency Services Mark Janowski; and Asotin County Public Health Administrator Brady Woodbury.
___
(c)2020 the Lewiston Tribune (Lewiston, Idaho)
McClatchy-Tribune News Service