Poll Call: What is your biggest COVID-19 EMS-related concern?
Faced with unprecedented challenges, EMS1 members share what they worry about most on the job
---
When paramedic Brian J. Maguire recently joined six of his colleagues to write "a desperate plea from a front line rapidly being overwhelmed by an unseen enemy," he wasn't just talking about COVID-19.
We have received many responses noting the U.S. EMS system has been underfunded and overwhelmed for quite some time, and now the COVID-19 pandemic is stressing already limited resources. Today, our nation's EMTs and paramedics are facing unprecedented shortages of PPE, inadequate staffing due to illness and quarantines, and for the foreseeable future, no additional pay. 
With these obstacles in mind, we asked our readers about their greatest COVID-19 EMS-related concerns.
While running out of protective supplies is unequivocally the greatest concern shared by EMS1 members, the possibility of infecting others follows closely behind becoming personally infected, and ranked significantly higher than more personal inconveniences like longer working hours due to staffing shortages or being sidelined due to exposure.
What are your concerns on the job during this worldwide crisis? What else would you add to the list? Weigh in by commenting below or emailing us at editor@ems1.com.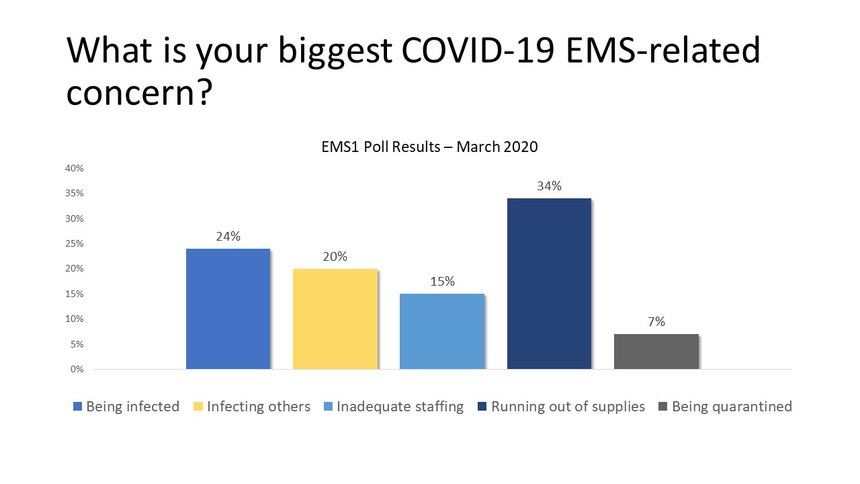 ADDITIONAL RESOURCES ON supporting ems Personnel during the covid-19 crisis