NJ ambulance squad temporarily suspends services to protect volunteers
The ambulance and rescue squad made the decision to suspend services for the first time in 84 years after some members began exhibiting symptoms
---
Michael Fraley, BS, BA, NRP, writes, "Undoubtedly, other emergency service organizations are going to be stressed to their breaking point as the COVID-19 pandemic continues to roll across the country. Hopefully, no other services will choose to stop answering calls, but if your service is getting close to that point, consider a few take away lessons from this story." Read more in his analysis.
Update Jan. 19, 2021: Cedar Grove Ambulance and Rescue Squad has returned to service, after a roughly nine-month suspension to protect its members from COVID-19.
"The members stayed resilient and brought back the functionality of the squad from the top down," officials wrote on Jan. 12, 2021.
Original report: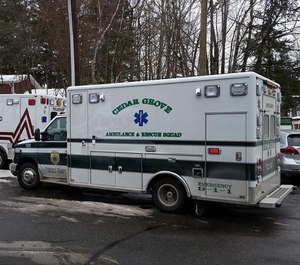 By Laura French
CEDAR GROVE, N.J. — A New Jersey volunteer ambulance and rescue squad is suspending its services temporarily in order to protect its members and their families from COVID-19. 
Cedar Grove Ambulance & Rescue Squad said in a statement on Facebook that it would be suspending service for the first time in its 84-year history after some members began showing symptoms but had difficulty getting tested. 
"Our Squad has continued to be 100% volunteer, even as the EMS landscape in New Jersey is shifting to the paid EMS model. This decision was both difficult and emotional for all of us," the statement read. "We definitely expect and look forward to our Squad Members returning to active duty again and we will be able to provide our usual level of EMS service in the future." 
The squad also noted that several of its volunteers are also healthcare workers, stating that the "excruciating decision was the correct one for all concerned."
According to the Facebook post, Cedar Grove's township manager, council and police chief were notified of the suspension on March 30, and officials have made arrangements with other nearby agencies for 24-hour coverage of the Cedar Grove community.