Ind. executive order allows retired, inactive EMS professionals to work during pandemic
The governor's order allows inactive EMS providers to work in the state under the supervision of a licensed EMS or healthcare professional
---
By Laura French
INDIANAPOLIS — Indiana Gov. Eric Holcomb has issued an executive order allowing retired or inactive EMS professionals to work during the COVID-19 pandemic without reinstatement or approval by the Indiana EMS Commission. 
The order applies to EMRs, EMTs, AEMTs and paramedics whose license or certification has become inactive within the past five years, but has not been revoked, suspended or relinquished, according to the order signed Tuesday. Providers do not need to have been licensed specifically in the state of Indiana to work under the new rule.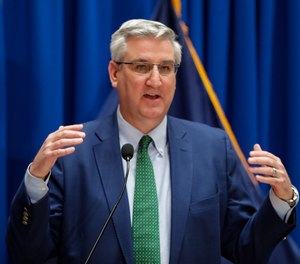 Retired or inactive EMS providers will be permitted to work under the direct supervision of a certified or licensed EMS provider or licensed healthcare professional, and cannot act as a sole patient caregiver. 
The state Department of Homeland Security is also issuing temporary certificates and licenses for some EMS professionals, which will last for 90 days and allow them to work unsupervised with the approval of a medical director. 
Some educational requirements for EMS students are also being waived under the order in order to expedite new providers entering the workforce. 
Indiana has seen nearly 5,000 COVID-19 cases and 139 deaths from the disease over the last 30 days, the order states.
Read the full executive order below:
ADDITIONAL RESOURCES
Learn more about COVID-19 response and government actions with these resources: