FEMA preparing for potential emergency declaration over coronavirus
An emergency declaration by President Donald Trump would allow disaster relief funds to be used to assist state and local responses
---
By Laura French
WASHINGTON — The Federal Emergency Management Agency (FEMA) is reportedly preparing for a potential emergency declaration by President Donald Trump that would direct disaster relief funds for state and local coronavirus response efforts.
There have been more than 100 confirmed cases of the novel coronavirus, officially known as COVID-19, in the United States, according to NBC News. There have also been six deaths from the virus, all in Washington state.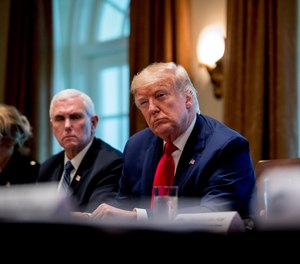 If Trump declares an emergency, FEMA funds will go toward mobile hospitals, disaster medical assistance teams and military transport among other resources, former FEMA Deputy Administrator Tim Manning told NBC.
FEMA currently has $34 billion in its disaster relief fund according to its most recent report.
Currently, FEMA is providing support to the Department of Health and Human Services, which declared the virus a public health emergency on Jan. 31.
A presidential declaration of emergency under the 1988 Stafford Act would provide more resources to state and local governments dealing with the outbreak. Declarations of emergency are typically used during natural disasters, such as hurricanes, but can also be made during disease outbreaks.
In 2000, President Bill Clinton declared an emergency during outbreaks of West Nile virus in New York and New Jersey.
Trump addressed the COVID-19 in the U.S. at a press conference last week, saying the nation is "very, very ready" to respond to the threat. The White House unveiled a $2.5 billion plan to manage the outbreak, and Senate Democratic Leader Chuck Schumer presented an $8.5 billion proposal days later.