EMT who did CPR on virus victim during flight says he got $200 voucher for 'inconvenience'
EMT Tony Aldapa said getting the voucher felt like a "slap in the face" after United Airlines failed to follow up about his health after the incident
---
By Laura French
LOS ANGELES — An off-duty EMT who performed CPR on a fellow flight passenger who later died from COVID-19 said he was insulted by the airline's response after receiving a $200 gift voucher for the "inconvenience." 
EMT Tony Aldapa told Fox News that he never sought monetary gain after he and two other good Samaritans worked for nearly an hour to revive the man, who fell ill during a United Airlines flight from Orlando to Los Angeles on Dec. 14. He said he was not upset by the amount of the voucher, which he received on Jan. 14, but by the manner in which the airline company finally chose to acknowledge his actions.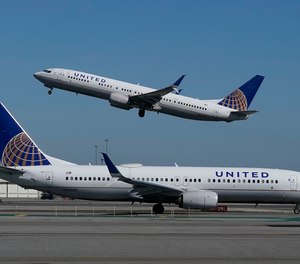 "What bothers me is the fact that all I received was a voucher and a phone call from a customer care representative that sounded like she was handed a sticky note that said, 'Hey, call this guy, he was on the flight and helped out,'" Aldapa told the station. "That was the slap in the face." 
Aldapa added that United Airlines never reached out to him about his health after learning that the passenger he tried to save had died from COVID-19; Aldapa had begun to experience potential virus symptoms but ultimately tested negative twice. He also said the company never issued a public statement acknowledging the good Samaritans' actions. 
United Airlines worked with the CDC to notify passengers on the flight about the potential exposure after being contacted directly by CDC officials regarding the incident, according to Fox News. Aldapa previously told FOX 11 that he was eventually contacted by Los Angeles County Public Health about the exposure, but not until 10 days after the incident. 
Despite the health risks involved, Aldapa said he did not regret coming to the man's aid.