42 injured after railing collapses at Snoop Dogg concert
31 were taken to local hospitals, though only minor injuries were reported
---
By Robert Moran and Julie Shaw
The Philadelphia Inquirer
 CAMDEN, N.J.— A railing collapsed Friday night during the Snoop Dogg and Wiz Khalifa concert at BB&T Pavilion in Camden, injuring 42 people, authorities said.
The concert was stopped after the accident happened shortly after 10 p.m. People were pressing against the railing that separates the lawn from inside seating when it collapsed.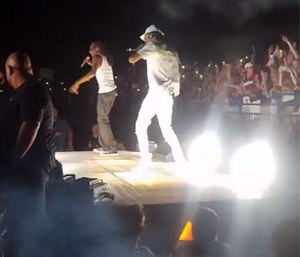 Katie Colbridge, 23, a recent Temple University graduate who attended the show, said about 50 people fell about 10 feet to a concrete pathway below.
"Everyone's piling on each other," said Colbridge, who lives in Northeast Philadelphia, describing the chaotic scene.
"Once they jumped on the stage [Snoop Dogg and Wiz Khalifa] and the spotlight hit, all the people surged forward," she said.
Dan Keashen, Camden County spokesman, said Saturday that 42 people were injured Friday night. They suffered minor injuries. Thirty-one people were taken to Camden's three hospitals - Cooper University Hospital, Lourdes Medical Center or Virtua Camden - and another three to Kennedy University Hospital in Cherry Hill, he said. The remaining eight were treated on site by medics and released, he said.
Rhonda Wexler, a Cooper University Hospital spokeswoman, said Saturday that the hospital received 20 patients with minor injuries, who were all treated and released. She said one patient had to go to the trauma unit, but that was only because all beds in the adjacent emergency department were taken, and not because of the person's injuries.
So this just happened at the snoop and wiz concert nj pic.twitter.com/YP2uFQJiy8

— christina kinne (@cak2014) August 6, 2016
@NBCPhiladelphia @6abc @FOX29philly @katebilo pic.twitter.com/xydY7ZbfQe

— Katie Colbridge (@katiecolbridge) August 6, 2016
No one was seriously injured, she said. She did not have any information on the types of minor injuries people suffered.
Carol Lynn Daly, spokeswoman for Lourdes Medical Center, said seven people were brought there in stable condition and were all treated and released.
Peggy Leone, a Virtua Camden spokeswoman, said four people were treated there and released. A spokeswoman at Kennedy, Nicole Pensiero, confirmed that three people were treated and released there for minor injuries.
Keashen said his understanding was that Snoop Dogg or Wiz Khalifa, who were on a secondary stage at the venue, was gesturing to people on the lawn to come toward the stage. That's when people rushed toward the railing and the railing collapsed.
The Camden County Sheriff's Office is investigating with assistance from the Camden County Police Department, Keashen said.
A records technician who answered the Sheriff's Office's phone Saturday said no one would be available to comment until Monday.
Live Nation, which operates BB&T Pavilion on the Camden waterfront, said Saturday night's "I Love the 90's with Salt N Pepa & More" concert will still go on at 6 p.m. The show features Salt-N-Pepa, Vanilla Ice and other performers.
A Live Nation spokesman did not immediately respond to questions about the collapse via email Saturday.
Vince Basara, spokesman for the city of Camden, said Saturday that city officials from the building and code-enforcement departments and the fire marshal were at the concert venue Saturday morning.
He said they were working with Live Nation and BB&T to install temporary railing with a buffer zone before Saturday night's concert.
BB&T will provide security to make sure concertgoers Saturday cannot go up and touch the temporary railing, Basara said.
Basara said the venue does not have any outstanding violations and that all inspections have been up to date.
BB&T and Live Nation will install permanent railings to replace what collapsed, he said, and the city will inspect the permanent fixtures.
Colbridge said after the accident that some people simply ran from the pile, while others were limping and needed to be held up by their friends.
An announcer asked the audience to remain calm as police and medics responded to the scene, she said.
Here is another video of the collapse from another concertgoer:
@NBCPhiladelphia @Q102Philly @wired965philly pic.twitter.com/mgDGoZnLfQ

— Łast♢K₩een (@ESPO_YMCMB) August 6, 2016
And here's another:
? This just happened at Snoop & Wiz's concert... pic.twitter.com/2y2aeAVyjf

— Plug Society (@ThePlugSociety) August 6, 2016
Copyright 2016 The Philadelphia Inquirer