Mass. man on dialysis trains EMS providers on home hemodialysis machine
Local paramedics and EMTs were trained on how to disconnect and properly operate a home hemodialysis prior to Eugene Tradd using the system at home
---
By Heather Alterisio
The Daily News of Newburyport, Mass.
NEWBURYPORT, Mass. — Eugene Tradd has spent the last year and a half traveling to a clinic a few times a week to undergo dialysis to survive until he can receive a kidney transplant. Recently, however, he found a way to do so without leaving the comfort of his own home.
Tradd, a Newburyport resident, is the first in the area to receive training to perform hemodialysis without the assistance of an aide and without having to leave his apartment.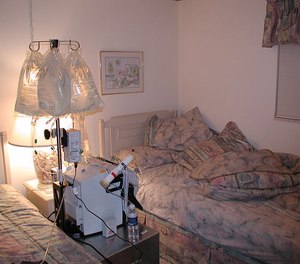 "It's quite a breakthrough," said Tradd, who has been undergoing dialysis three days a week for the last year and a half at Fresenius Kidney Care in the Towle Office Building at 260 Merrimac St.
"Typically, you need a support person there to assist every treatment," he said, "and I'm the first person in the area, or many towns around, who has been trained to do it solo."
At Fresenius, Tradd explained, "They started a home hemodialysis clinic with a couple of nurses on staff who are in the process of getting more patients so they can train them, too."
Hemodialysis nurses go to school for at least a year or more, but Tradd underwent training to perform dialysis on himself in just six weeks.
"I had to get used to sticking myself with needles," he said. "When I first started on all this, I couldn't even watch the nurses put the needles in me because they are very large needles.
"You wouldn't believe the size of these needles," he added. "They're almost like swizzle sticks."
Tradd wasn't sure he would be able to "overcome this obstacle," but he did. "I've been doing it for a little over a month now and everything's been going well."
Moving forward, Tradd, who has about 18 months left on the transplant waiting list at Massachusetts General Hospital, believes this is "only temporary."
To ensure his safety and have the process approved by the state, he had to show paramedics and emergency medical technicians at Atlantic Ambulance how to use his machine.
"One day, I had EMS responders in my little, one-bedroom apartment all being introduced to me and the system because it's so new to the area," Tradd said. "The state needed to get EMS on board. So, I had at least 10 EMS responders in my kitchen and four ambulances out front."
Robert White, director of operations at Atlantic Ambulance, confirmed this, saying, "We had to go to his house to see what his machine was all about. If he is experiencing a medical emergency, we will have to know how to disconnect him from his machine."
A hemodialysis nurse later met with and trained more than 75 other paramedics and emergency medical technicians on how to take someone off a home machine.
For more information on home hemodialysis, go to freseniuskidneycare.com/ckd-treatment/at-home-hemodialysis.
———
©2019 The Daily News of Newburyport (Newburyport, Mass.)
McClatchy-Tribune News Service