Community paramedicine growth, payment explained at Wis. EMS conference
The evolution of EMS has led to the rise of community paramedicine to address the patient and hospital need for mobile, integrated and high-quality health care
---
MILWAUKEE ― The need for and growth of community paramedicine reflects the evolving expectations of the public for a mobile, health care service. Since patient treatment without transport, specifically for Medicaid patients, is usually not reimbursed, the payment model for community paramedicine needs to be addressed. Maggie Adams explained the evolution of EMS and the major problems facing patients, hospitals and EMS agencies that have led to the growth and development of community paramedicine at the Wisconsin EMS Association Working Together conference.
Patients on Medicare or Medicaid are a significant portion of the patient pool for EMS agencies everywhere. For example, Wisconsin, with a total population of 5.76 million, has 662,000 Medicare beneficiaries and almost 1.2 million Medicaid enrollees. Potential penalties on hospitals for patient readmissions, as well as boarding patients in the emergency department, is driving interest in community paramedicine.
Memorable quotes on getting paid for community paramedicine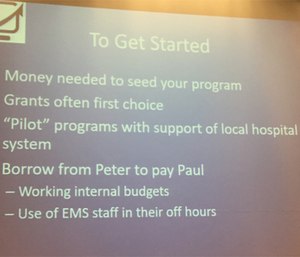 Adams is a regular EMS conference presenter. She draws on more than two decades of EMS industry experience to prepare and deliver presentations for EMS leaders. Here are memorable quotes from Adams' presentation.
"Data management and billing piece (of community paramedicine) is what has become challenging."
- Introducing the growth and challenges of community paramedicine.
"State EMS associations are important to advocate (for community paramedicine)."
- While discussing the Pennsylvania legislative effort to recognize community paramedicine.
"No (community paramedicine) program is exactly the same. They are all different."
- During a review of community paramedicine programs in Texas, Colorado, Nevada, North Carolina and Pennsylvania.
"Every community paramedicine program must do two things. Start. Sustain. Most programs are so excited to get started they don't think about how to keep it going."
- On the challenge of getting paid for community paramedicine.
5 top takeaways on community paramedicine growth and payment
Here are five top takeaways from Adams' presentation on the growth of community paramedicine, description of current programs and the challenges of sustainment funding for community paramedicine.
1. Community paramedicine is growing
Community paramedicine and mobile integrated health care has grown significantly in the United States from four programs in 2009 to 280 (or more) known programs in 2016. The growth of community paramedicine is part of the evolution of EMS from an emergency response service to meeting the public's expectation of a mobile, high-quality health care service.
2. Community paramedicine is a better service for patients
Readmission, a return of a patient to the hospital, is not good for the hospital or the patient. Community paramedicine has the potential to better serve patients, improve patient outcomes and reduce costly readmission of patients.
3. Community paramedicine is a best use of the EMS workforce
Community paramedicine training and service presents a new career pathway for EMS providers. Adams described the reality of an EMS workforce that is at risk of burn out from increasing call volume, much of which is for non-emergency responses, and limited or shrinking response resources.
4. Community paramedicine is more than health care
Management and monitoring of chronic diseases, like diabetes, hypertension or heart failure, require more than vital sign monitoring or physical examination. Social services to assure safe living conditions, medication compliance and accessing other community resources is an important component of successful community paramedicine programs.  
5. Have a community paramedicine sustainment plan in place before launching
Most of the community paramedicine programs profiled by Adams started with either grant funding, hospital money or other seed funding. She pointed out that sustainment — how to cover the ongoing costs of community paramedicine — is rarely planned for at the time of launch. She encouraged attendees to consider contracting with payers and entering into partnerships with hospitals. Achieving Medicare and Medicaid reimbursement might be a future solution, but will likely take years to achieve.
Learn more about community paramedicine
Check out these articles and videos to learn more about community paramedicine and mobile integrated health care