San Diego aims to end hepatitis A emergency soon
Officials hope to end the official emergency status by Jan 31 after spending millions in fighting the epidemic
---
By Paul Sisson
The San Diego Union-Tribune
SAN DIEGO — Hepatitis A may no longer be an official emergency in San Diego County after Jan. 31.
Although the San Diego County Board of Supervisors on Tuesday again ratified the region's local public health emergency status, Helen Robbins-Meyer, the county's chief administrative officer, said her office has begun talking to local city governments about ending the official emergency status declared on Sept. 1.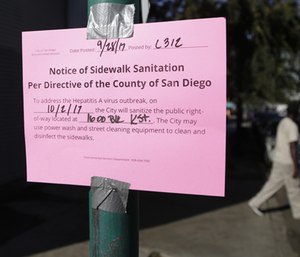 "Over the next several weeks, we're going to be moving our thought process and our planning towards what does the status quo state look like as we're moving away from this emergency state," Robbins-Meyer said. "We need to think about what processes will be in place ... by the end of January, when we would anticipate that, at that point, we could lift the emergency declaration."
The county and local cities have spent millions on a range of activities, from paying to administer more than 113,000 vaccine doses to those at highest risk to installing and paying for supervision and maintenance of portable toilets and hand-washing stations to get the worst hepatitis A outbreak seen in more than 20 years under control.
Dr. Eric McDonald, chief of the county's Epidemiology and Immunization Services Branch, told the board Tuesday morning that local labs and health providers continue to refer two to three hepatitis A cases per week. While that pace is much slower than it was over the summer, when the outbreak peaked, it still has not returned to what was considered normal before the outbreak.
"We're still getting a higher number of reported cases than prior to the outbreak, which was two to three per month," McDonald said.
The county added two more cases to the outbreak total this week, moving the count to 571. The number of hepatitis A-associated deaths remained at 20.
Talk of ending the emergency, coupled with another week of low activity, gave supervisors reason for optimism heading into the Christmas weekend.
"It looks like maybe, just maybe, we'll be out of the woods soon on this one," said board chair Dianne Jacob.
Copyright 2017 The San Diego Union-Tribune