N.Y. 911 dispatcher fired for handling of call during Buffalo mass shooting
A grocery store assistant manager said she was berated for whispering; the call taker said she is "being attacked for one side of the story"
---
By Leila Merrill
BUFFALO, N.Y. —  A 911 dispatcher was fired Thursday after a disciplinary hearing on how she handled a call from a Tops employee during the mass shooting on May 14.
Latisha Rogers, an assistant office manager at the grocery store called 911 as she hid behind a counter while the gunman was shooting people, the Buffalo News reported. Ten people were killed.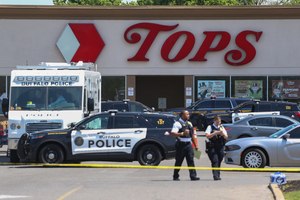 Rogers said that the 911 dispatcher told her to speak up instead of whispering.
"She was yelling at me, saying, 'Why are you whispering? You don't have to whisper,'" Rogers said. "And I was telling her, 'Ma'am, he's still in the store. He's shooting. I'm scared for my life. I don't want him to hear me. Can you please send help?' She got mad at me, hung up in my face."
Rogers also told news outlets that she dropped her phone during the call and when she picked it up, she found that the call had been ended.
The now former Erie County Central Police Services Department 911 call taker, Sheila E. Ayers, said that Rogers has changed her account and that she is "being attacked for one side of the story."
County Executive Mark Poloncarz said in the days after the mass shooting that Ayers disregarded her training. He said the way she responded to Rogers was "completely wrong."
Denise Szymura, president of Civil Service Employees Association Local 815, said the union will file a grievance regarding Ayers' termination. She worked for eight years as a 911 call taker.