Ky. judge orders 911 dispatch center study
Daviess County Judge-Executive Al Mattingly requested a study be conducted on the feasibility of consolidating regional 911 dispatch centers into one center
---
By James Mayse
Messenger-Inquirer, Owensboro, Ky.
DAVIESS COUNTY, Ky. — Daviess County Judge-Executive Al Mattingly has asked the Green River Area Development District to study the feasibility of consolidating regional 911 dispatch centers into one center.
GRADD officials have not yet begun the study, and Owensboro-Daviess County 911 Director Paul Nave said it would be impossible to comment on consolidating county 911 centers into one facility without first seeing the results of the study.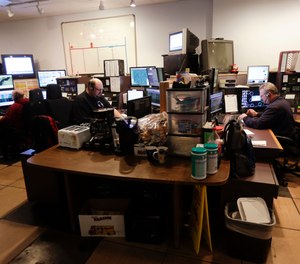 Mattingly said Tuesday the request was made because the county is facing upgrading the communication system used by county firefighters and sheriff's deputies. A study on the county's VHF radio system found much of the system's equipment is outdated, and fire and sheriff's department officials have complained about times when they couldn't contact dispatch, or receive messages back when they are using their portable radios.
The study found updating the system, or replacing it, will cost between $3.742 million and $5.905 million, depending on what option county officials choose.
"Commissioner (George) Wathen said this morning, we need to be looking at all our options," Mattingly said.
"All we're doing is gathering information," Mattingly said.
Nave said there are some regional dispatch centers in the state. Garrard County and Lincoln County formed Bluegrass 911 Central Communication Center in 2007. The Barren-Metcalfe Emergency Communications Center is also a combined 911 center operating out of Glasgow.
A large 911 center, Metrosafe, operates out of Louisville.
"That's an example of a large center functioning very well," Nave said. The state's 911 Services Board provides a $400,000 grant to agencies consolidating dispatch centers, he said.
Mattingly said one item that will be studied is whether counties can save money by consolidating dispatch operations. Mattingly said he would like an administrator from the 911 Services Board to address a GRADD meeting in the near future.
The study would have to find consolidating makes sense for all of the counties involved, Mattingly said. "It has to be beneficial for everybody."
Nave said there's no timeline to complete the study because the work hasn't yet begun.
"It's in its infancy," he said.
———
©2019 the Messenger-Inquirer (Owensboro, Ky.)
McClatchy-Tribune News Service