Calif. governor signs bill classifying dispatchers as first responders
California's dispatchers will now be classified as first responders instead of administrative or clerical workers
---
By Laura French
SACRAMENTO, Calif. — California Gov. Gavin Newsom signed a bill on Friday that reclassifies dispatchers as first responders. 
Assembly Bill 1945, which passed with bipartisan support last month, will change the classification of public safety dispatchers from administrative or clerical workers to first responders, according to a press release from the office of Assembly Member Rudy Salas, who introduced the bill.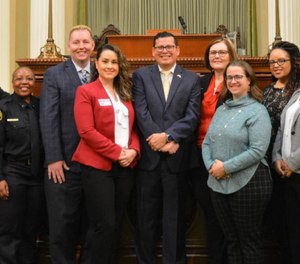 "The passage of AB 1945 marks a historic victory for the thousands of California dispatchers who have fought for the status of first responder," Salas said in a statement. "Our state depends on the incredible work of our emergency dispatchers who are the first to respond during a crisis and the last voice we hear on the phone."
Dispatchers in California answer approximately 27 million 911 calls per year. Employee classifications impact the retirement benefit plans available to government employees. 
"On behalf of the California Chapter of the National Emergency Number Association (CALNENA) and over 8,000 9-1-1 emergency dispatchers across the state of California, we are thrilled that AB 1945 has successfully passed the California Legislature with overwhelming support," said CALNENA President Lee Ann Magoski, ENP. "For too long, the women and men of 9-1-1 have gone unrecognized as the first of the first responders, answering the call for help 24 hours a day, 7 days a week, 365 days a year."