Fla. fire chief resigns after investigation into bulk EMT recertification
An investigator wrote that the fire chief submitted "a bulk renewal recertification" for 20 firefighter-EMTs when only seven met the requirements for renewal
---
By Laura French
PANAMA CITY, Fla. — A Florida fire chief has resigned following an internal investigation into allegations he wrongly renewed EMT certifications for more than a dozen firefighters who did not meet the requirements for renewal. 
Panama City Manager Mark McQueen accepted the resignation of Fire Chief Alex Baird, effective immediately, on Tuesday following the results of the investigation, which were delivered to McQueen last Wednesday, according to WJHG.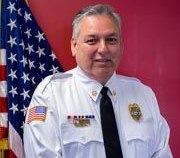 The investigator from the Allen, Norton & Blue Professional Association wrote that Baird had submitted "a bulk renewal recertification" for 20 firefighter-EMTs at the Panama City department in September 2018, but that only seven of the firefighter-EMTs met the requirements for recertification as of December 1, 2018, documents obtained by WJHG show. 
The investigator also wrote that, as of March 31, 2019, five firefighter-EMTs had still not completed the required 30 continuing education hours for recertification and continued to work with invalid certificates. One of those firefighter-EMTs, a lieutenant at the department, told Baird he had not completed his hours and did not intend to continue his certification, but Baird failed to decertify him, according to the investigator. 
The investigator recommended remedial action be taken against the fire chief. Baird submitted his letter of resignation on Tuesday. 
Assistant Chief Kent Taylor will serve as acting fire chief following Baird's departure.