Los Angeles first responders profiled by 'The New York Times' for pandemic work
The grueling pace of emergency services is brought to the forefront as cases surge in California
---
By Rachel Engel
LOS ANGELES — "The New York Times" recently published an article detailing the work EMTs are doing on the ground during the COVID-19 pandemic.
In a multimedia format, the Times piece focused on the lives of first responders working at Amwest Ambulance: Dispatcher Linze Thompson, EMT Joshua Berrios, Manager Brian Fula-Napoli, EMT Javier De La Cruz, EMT Tim Shelton, EMT Omar De La Torre and EMT Deandre Predom.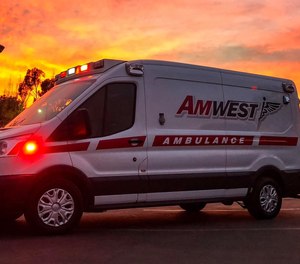 The article states: "The job of an EMT is grueling. Most work 12- or 24-hour shifts. Many EMTs make near minimum wage, sometimes working two or three jobs to make ends meet. In Los Angeles, many have left for higher-paying temporary jobs at COVID-19 testing sites."
Shelton, an EMT with 13 years of on-the-job experience, has four children at home to protect.
"I don't think about it," he said of the possibility of bringing the virus home with him. "You just cover up and do the best you can. It's a scary thing – you've got to go out with a positive mindset."
When De La Torre began experiencing symptoms, he immediately notified his work.
"First I worried about my son and my wife, and then lastly, I started worrying about myself," he said.
De La Torre eventually tested positive, along with his wife, mother, stepfather and brother.
Amwest plans to provide the COVID-19 vaccine to its workers as early as next week.